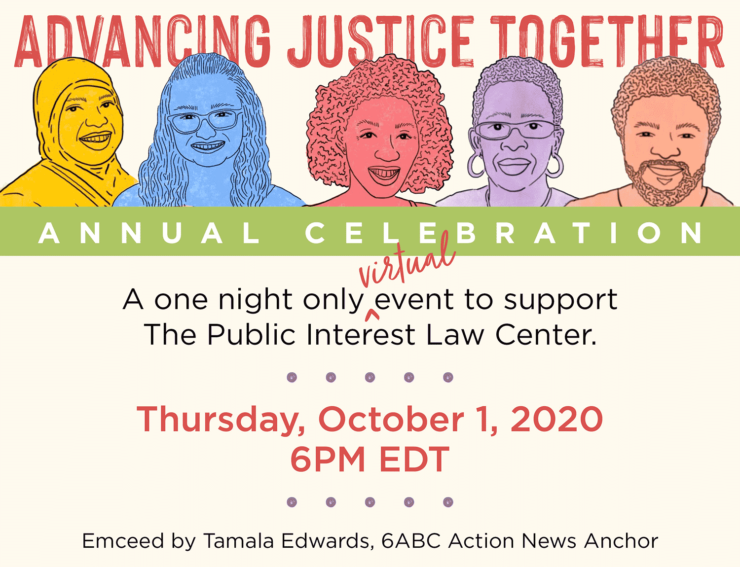 Save the Date
6–7:30pm
Thursday, October 1, 2020
A unique virtual event
Music—Performances—Auction—Awards Ceremony—Festivities
Get Free or Premium Tickets Here
At this one night only virtual event, allies of the Public Interest Law Center from across the country will come together to celebrate all those who help the Law Center take on discrimination and poverty to advance justice: pro bono partners, supporters and friends, and clients who stand up to the injustice they see in their communities.
Silent Auction
Our silent auction is now live! Anyone can join the fun and support our work, whether or not they are able to attend our event. All the proceeds will help us continue to help our clients stand up to discrimination and injustice in their lives and the lives of their neighbors. Whether you're an amateur chef or are looking for a weekend getaway, you can win unforgettable experiences and one-of-a-kind gifts.
Event Host Committee
Leigh Ann Buziak, Co-chair
Don Perelman, Co-chair
Mira Baylson
Scott Charles
Bob Fiebach
Monique Myatt Galloway
David Gersch
Tianna Kalogerakis
Sarah Kang
Stephen Kastenberg
Andrew Malik
Caitlin McHugh
Carol Miller
Andrew Napier
Ali Perelman
Robin Roberts
Curtis Shiver
Dana Trexler
---
Featuring performances from
Alyssa Garcia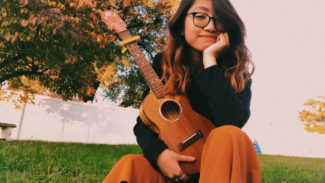 Alyssa Garcia is a Philadelphia based, award-winning singer-songwriter with an indie-pop sound. Living by the mantra "Music is the cure", she strives to use her original music as an outlet of positivity and relatability. Garcia pens soulful tunes that tell her listeners a story.
Garcia has released several EPs and one full-length album entitled, "three little words". Currently, two tracks on her album ("Loved Actually" and "Better Life") are featured in the film "Getting Grace" directed by Daniel Roebuck. Additionally, Garcia won the Philadelphia Songwriters Project's Annual contest in 2015 with her song "Better Life". Her song "Sincerely, Me", also featured on her newest album, won the 2018 "93.7FM Hometown Heroes: Homey Award" for Best Pop Song.
Garcia continues to perform at various venues and has opened for notable artists such as Youtube sensation Rusty Clanton, GRAMMY Nominee Crash Test Dummies, American Idol Finalist Bucky Covington, and the eighth season winner of "the Voice", Sawyer Fredricks. Currently a rising junior in Drexel University's Music Industry and Recording Arts Program, the Philly artist continues her journey toward a career in the music industry working several internships in music marketing and production, as well as writing, recording, and producing her second full-length album. Learn more on her website.

Ballet X
BalletX, Philadelphia's premier contemporary ballet, whose dancers were named "among America's best" by The New York Times, commissions choreographers from around the world to create dance that is "fresh, inclusive, and connects to what people want" (Philadelphia Citizen) while "positioning Philadelphia on the cutting edge of contemporary ballet" (The Dance Journal).
Founded in 2005 by Christine Cox and Matthew Neenan, BalletX is led by Cox, whose tenure as Artistic & Executive Director has produced 84 world premiere ballets by 42 choreographers. Learn more on their website.
Wordz the Poet Emcee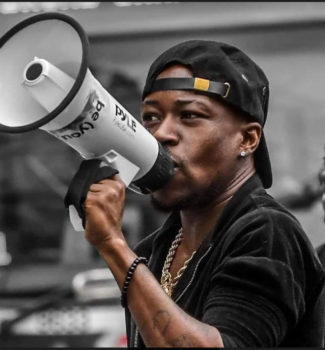 Often referred to as "a breath of fresh air," Wordz is a gifted lyricist, poet and songwriter, delivering authentic hiphop and soul.
Under the mentorship of an underground North Philly rap group named, Beautiful Black Children aka BBC, WORDZ began his professional recording career in the mid 90s at the age of 15. His first album, 'Mental Replays', was released in 2003, where he gained popularity by selling his music on street corners in downtown Philly.
With the release of 11 albums total currently, WORDZ is featured in numerous showcases and concerts throughout the US and continues to provide listeners with music that is artistically pure and organic. He has shared the stage with Legends such as Black Thought, Ursula Rucker, Sonia Sanchez, Guru, Rich Medina and The Floacist and has performed on 106th and Park. Today, the talented artist is dedicated to putting the art back into HipHop, with dreams of touring internationally. WORDZ continues to Iive his life spreading a message of peace, love and HipHop "by any means necessary." Follow him on Facebook.
Amos Lee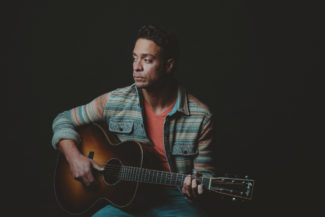 Amos Lee is an American singer-songwriter whose musical style encompasses folk, rock, and soul. He was born in Philadelphia and graduated from the University of South Carolina with a degree in English. After working as a schoolteacher and bartender he began to pursue a career in music. His manager Bill Eib, an artist manager and new artist development agent, submitted a demo recording to Blue Note Records which resulted in a recording contract and association with singer Norah Jones.
Since that time Lee has recorded five albums on Blue Note Records and has toured as an opening act for Norah Jones, Bob Dylan, Elvis Costello, Paul Simon, Merle Haggard, Van Morrison, John Prine, Dave Matthews Band, Adele, the Zac Brown Band, Jack Johnson, The Avett Brothers, and David Gray. His music has appeared on the soundtracks of numerous TV shows and movies. He has performed on several late night TV shows and at a voter registration rally for Barack Obama. In 2011, his album Mission Bell debuted at No. 1 on the Billboard 200 chart. His latest album, My New Moon is out now from Dualtone Music. Learn more on his website.
---
Sponsors
Interested in becoming a Sponsor of our 2020 Annual Celebration? Download a Sponsorship Packet from the link below for more information and be sure to check out our current list of 2020 Annual Celebration Sponsors. The deadline to become a Sponsor is September 15!
---