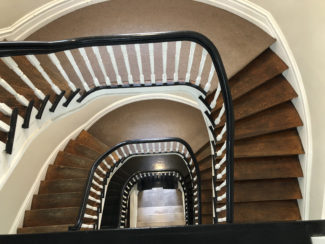 Update: On March 12, 2019, Brenda Harrison reached an amicable resolution with Pelham Court LP and Rushmore Management in her Fair Housing Act litigation. Learn more here.
October 17, 2018 — A corporate landlord threatened Brenda Harrison, a 62-year old Philadelphia woman with multiple disabilities, with eviction from her home of 14 years after she insisted that her landlord had the responsibility to ensure her unit was accessible for persons with disabilities. She is now suing her landlord, Pelham Court LP, and property management company, Rushmore Management, in federal court under the Fair Housing Act. She is represented by the Public Interest Law Center and Ryan Allen Hancock of Willig, Williams & Davidson. The case was filed on August 2, 2018.
"The Fair Housing Act requires that tenants with disabilities are given the opportunity to fully use their unit" said Ryan Hancock from Willig, Williams & Davidson. "Unfortunately, Ms. Harrison wasn't given that opportunity."
Ms. Harrison has lived in her Mt. Airy apartment since 2004. Her apartment is immaculately clean and colorfully decorated. She says that her landlord and property managers have sometimes shown it off to new perspective tenants.
"I pay my rent on time, I'm a good neighbor, I maintain my apartment," Ms. Harrison said. "It's disheartening. You keep up your end of the bargain, plus more, and they try to bully you out."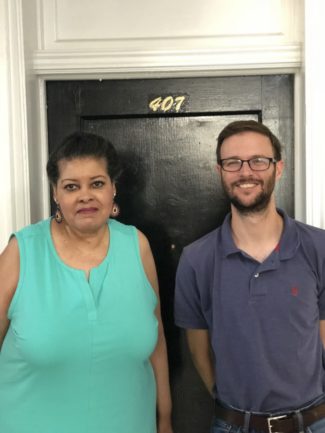 Ms. Harrison chose Pelham Court in part because of its accessible elevators, but since she moved in, the elevator in her wing of the building has been inoperable numerous time. She has fibromyalgia, vascular disease, and arthritis, which cause serious mobility deficiencies that prevent her from climbing stairs. When the elevator is down, she cannot leave her apartment.
Each time the elevator serving her unit was not operational, Ms. Harrison would withhold a third of her rent for that month—an act that is her right as a tenant in Pennsylvania—informing Pelham Court property managers and reminding them of her disability. In 2013, an elevator outage prevented her from visiting her father in hospice before he ultimately passed.
"Tenants with disabilities like Ms. Harrison should not be forced to just accept it when landlords fail to provide them with the things they need to live their lives."
In 2017, Pelham Court threatened to evict her for withholding a portion of her rent while the elevators were out of service. Ms. Harrison filed a complaint with the Philadelphia Fair Housing Commission, which found that this threat of eviction violated the Philadelphia Fair Housing Ordinance. Even then, her landlord continued to attempt to force her out.
In November of last year, Pelham Court notified Ms. Harrison that would be terminating her lease unless she agreed to a 7 percent rent increase and new lease terms. One term specified that she could no longer deduct rent when the elevator was down, saying that "elevator use and maintenance is not an obligation of the landlord to the tenant." This lease term asked Ms. Harrison to give up any recourse as a tenant with a disability when a problem with her apartment severely impacted her life.
Ms. Harrison agreed to the rent increase but did not agree to give up her right to make a deduction in her rent while confined to her apartment.
"I really thought that the lease term was a direct target against me," Ms. Harrison said. "I knew what my rights were, and I felt violated and betrayed."
A week after she sent back the revised lease, Ms. Harrison received a letter from a lawyer for Pelham Court, stating that her lease had been terminated for refusing to accept the lease term and again threatening her with eviction. For asserting her rights as a person with a disability, her landlord retaliated by trying to force her out. At the same time, Pelham Court began a scheduled maintenance project that shut down the elevator serving Ms. Harrison's unit from November 27, 2017 to February 1, 2018.
Being trapped in her apartment and threatened with eviction yet again was the last straw for Ms. Harrison. To hold her landlord accountable for its discriminatory treatment of tenants with disabilities, Ms. Harrison filed a lawsuit against them in federal district court on August 2 for violation of the Fair Housing Act. She is suing Pelham Court and Rushmore Management for discrimination based on her disability, retaliation for exercising her rights, and a failure to provide reasonable accommodation for her disability.
"For tenant rights to mean anything, landlords can't retaliate against tenants like Ms. Harrison when they exercise those rights," George Donnelly, an attorney at the Public Interest Law Center representing Ms. Harrison, said. "Tenants with disabilities like Ms. Harrison should not be forced to just accept it when landlords fail to provide them with the things they need to live their lives."
Ms. Harrison has a simple message for her landlord and other landlords in Philadelphia.
"I want them to know that they can't bully people who are disabled," she said.