Today members of the Philadelphia Catholic Worker, a longstanding South Kensington community-based organization, filed litigation in order to establish its ownership and gain permanent control of the land they have continuously cultivated since 1988.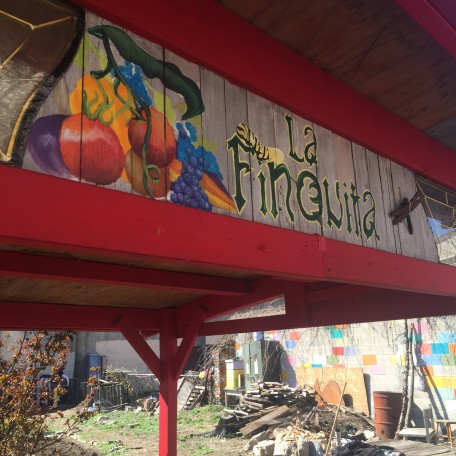 Catholic Worker established La Finquita, which is located at the corner of North Lawrence Street and Master Street in South Kensington. The suit, which was filed in the Philadelphia Court of Common Pleas, comes after gardeners discovered that an unknown party placed a lock on the entrance to the fence surrounding their garden this past January. Philadelphia Catholic Worker and garden members are represented by the Public Interest Law Center and Saul Ewing LLP.
Records show the land was last owned by Pyramid Tire & Rubber Co., which has been inactive as a corporation since 1956 and has paid no property taxes for 60 years. "When we first started the garden, our goal was to have a positive impact on the neighborhood and deal with the unsightly, trash-strewn, abandoned lot. Those are still our goals today. More than two decades of residents contributed their sweat equity to care for this space; it is time for the Catholic Worker to formally establish our legal ownership," said Beth Centz of the Philadelphia Catholic Worker.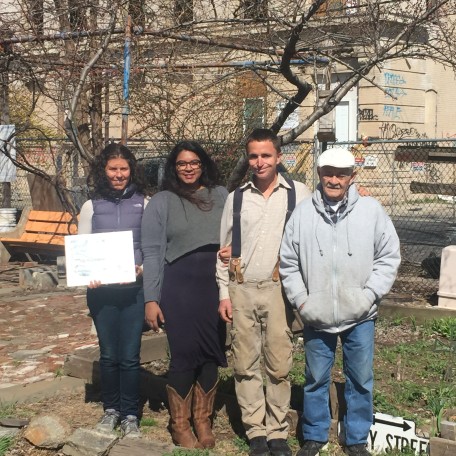 Under Pennsylvania state law, an entity can claim adverse possession of a property if they can demonstrate real, unbroken possession for more than 21 years. Longtime resident Danny Rodriguez has been at the garden since the beginning: "We call it La Finquita, in Spanish. It means 'the little farm.' My family and my two sons, we have been growing things here the whole time. One of my sons passed away and we keep up his memory here. We would be very sad to see this place go away. It is part of our family."
With the help of over 50 volunteers, La Finquita grows over 1,500 pounds of produce every year, which is distributed through food kitchens at the Catholic Worker and the Drueding Center and, sold at discount prices through a weekly farm stand. Cliff Brown lives a block from the garden and serves as the Farm Manager for La Finquita: "The Catholic Worker and all the neighbors worked together to clear away trash, bricks and cement and turned this into a living community space. We take care of the land and host community events. Now, someone is trying to come into our neighborhood and take this land away from us. We will not sit by and let that happen."
"We are asking the Court to declare that the Philadelphia Catholic Worker is entitled to the quiet and peaceful possession of this land, thus ensuring that the neighborhood may continue to access the land for the long term, as Catholic Worker intends," said Ned Rahn, a partner at Saul Ewing LLP and co-counsel on the case.
"La Finquita is one of many, many decades-old gardens and farms in Philadelphia that are at risk or have already been lost to rapid development," said Amy Laura Cahn, staff attorney at the Public Interest Law Center and co-counsel on the case. "The City of Philadelphia has been working for some time to implement practices to preserve Philadelphia's critical and longstanding gardens, with the support and guidance of many community organizations. We do not want this beautiful place to be lost in the meantime."
Click here for a copy of the legal complaint.

# # #
Philadelphia Catholic Worker has served the South Kensington area for decades, providing people in need with food and clothing. Philadelphia Catholic Worker is one of 236 Catholic Worker communities across the country committed to nonviolence, voluntary poverty, prayer, and hospitality for the homeless, exiled, hungry, and forsaken. Catholic workers protest injustice, war, racism, and violence of all forms.
La Finquita Community Farm is vital to the health, connectivity, and well-being of the South Kensington community. The garden hosts numerous community events each year and supplies produce to dozens if not hundreds of families throughout the neighborhood. The garden is located at 428 W. Master Street in Philadelphia. Follow on Facebook at www.facebook.com/lafinquitasouthkensington.
The Public Interest Law Center uses high-impact legal strategies to improve the well-being and life prospects of vulnerable people by ensuring they have access to fundamental resources including a high-quality public education, health care, employment, housing, safe and healthy neighborhoods and the right to vote. For more information visit www.www.pubintlaw.org or follow on Twitter @PubIntLawCtr.