In 1969, the Public Interest Law Center was founded as a Philadelphia affiliate of the Lawyers' Committee for Civil Rights Under the Law. In the 50 years since, we have fought for, and won, lasting changes that help communities stand up for their rights in the face of discrimination and poverty.
This year, in 2019, we will celebrate this history, and highlight how it informs our work today. Join us at Cherry Street Pier to celebrate five decades in pursuit of justice.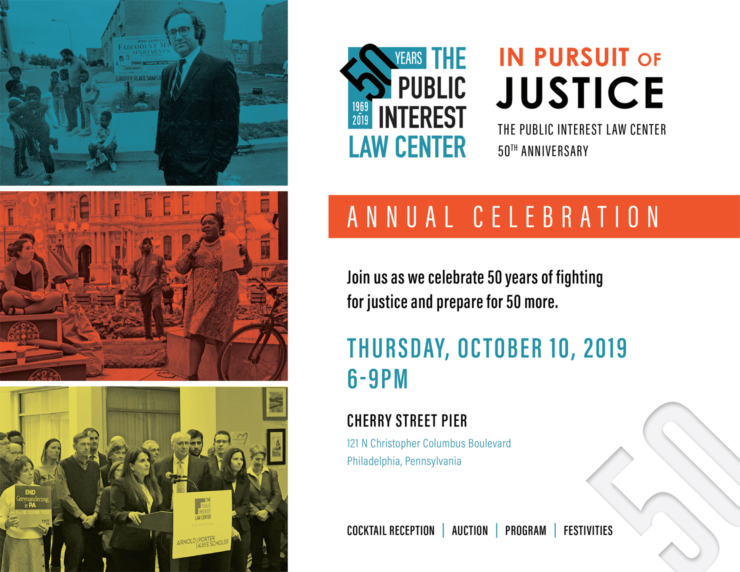 Save the Date
6-9 p.m.
Thursday, October 10, 2019
Cherry Street Pier
Cocktail Reception—Auction—Program—Festivities
Event Host Committee
Matthew Glazer, Co-Chair
Leigh Ann Buziak, Co-Chair
David Caputo
Jennifer Garfield
John McKeever
Michael McKeever
Franca Palumbo
Donald Perelman
Mary Platt
Hyung Steele
Dana Trexler
Karen Vaughn
---
Accessibility
Cherry Street Pier is an accessible location. If you have physical accessibility needs or require an ASL interpreter please contact Michael Berton at mberton@pubintlaw.org or 267-546-1303.
---
Silent Auction
Place your bids on more than 25 unique items, gifts, and experiences in our silent auction fundraiser. Whether you're a sports fan or an amateur gourmand, you can win unforgettable experiences and one-of-a-kind gifts, with all proceeds supporting our work taking on discrimination and poverty.
Anyone can participate in the silent auction, whether or not you will be attending our celebration. Items include a behind-the-scenes tour of Federal Donuts, Eagles tickets, lunch with Philadelphia City Councilmember Helen Gym, and much more.
---
2019 Honorees
The Public Interest Law Center's 21 former Board of Directors Chairs
The Arc of Pennsylvania
The Public Interest Law Center's 21 former Board of Directors Chairs
As we celebrate our 50th Anniversary, we will honor these 21 individuals whose leadership and stewardship were essential to the Law Center's five decades of work in pursuit of justice.
Bernard Borish
Robert Sayre
F. John Hagele
Lawrence Hoyle
Richard Bazelon
Judith Harris
Stanley Wolfe
Lane Taylor, Jr.
W. Jeffrey Garson
Barry F. Schwartz
Richard Freemann
Edmund B. Spaeth
William Ewing
Richard Glazer
Donald Joseph
David Smith
Pat Canfield
Roosevelt Hairston
Eric Rothschild
Brian Feeney
Lea Knight
The Arc of Pennsylvania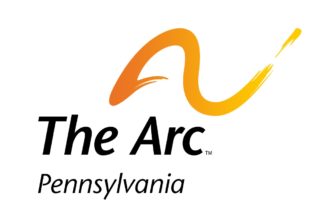 Throughout our history, we have fought for the rights of people with developmental disabilities to fully participate in community life, achieving several groundbreaking victories. This work would not be possible without the bravery and commitment of organizations, activists and families involved in the disability rights movement. As we mark our 50th anniversary, we honor one of these organizations, the Arc of Pennsylvania, our partner in many significant milestones in the battle against the isolation and segregation of people with disabilities.
The Arc of Pennsylvania was started 69 years ago by parents of children with intellectual and developmental disabilities who fought against society's expectation that their children be sent to state institutions. Thanks to their work, and the movement they created, life for children and adults with intellectual and developmental disabilities and their families is far better than it was in the early 1950's.
The Arc of Pennsylvania–formerly known as PARC–was the plaintiff in our 1971 case PARC v. Commonwealth of Pennsylvania. This was the first successful case in the country that established the right of students with disabilities to receive a public education. At the time that the case was filed, students with developmental disabilities were considered to be "uneducatable," and many of these children were isolated in institutions that provided no education at all. After our victory in the PARC case, advocates filed a flurry of twenty-seven federal court cases challenging similar laws across the country. Congress responded with the passage of the Education of All Handicapped Children Act, now known as the Individuals with Disabilities Education Act (IDEA). The IDEA establishes that students with disabilities nationwide have the right to receive a free appropriate public education.
We partnered with the Arc again to join the class action lawsuit, Halderman v. Pennhurst, filed by residents challenging the horrendous conditions at Pennhurst State School and Hospital. At this large institution, Pennsylvania warehoused and segregated thousands of people with developmental disabilities, who were often needlessly restrained and denied educational services in prison-like conditions. We alleged that this violated the constitutional rights of Pennhurst residents, and pushed for community-based services that would allow people to more fully experience and contribute to community live. After a legal battle of nearly a decade, including three appearances in the United States Supreme Court, we reached a settlement in 1986 to close the facility and provide community-based services for the residents of Pennhurst. This case was the first of many. We filed additional class action lawsuits in Pennsylvania and across the country over a period of almost 40 years, partnering with the Arc and similar organizations across the country.
All of us owe a debt of gratitude for the pioneering work and courage of the Arc of Pennsylvania for furthering the dignity of people with disabilities and our society as a whole.
Emcee: Tamala Edwards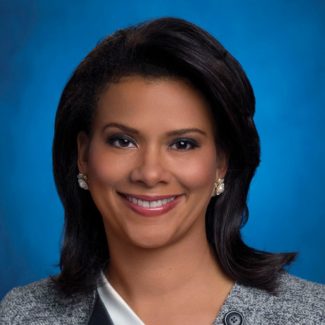 Tamala Edwards anchors 6abc's Action News Mornings. Edwards also regularly co-hosts 6abc's Inside Story and in that role has interviewed people like former Governor Tom Corbett and United States Senator Bob Casey.
After earning degrees in International Relations from Stanford University in 1993, Edwards spent eight years as a staff writer for Time magazine. She specialized in covering politics and reported on the 1996 and 2000 Presidential elections. Edwards joined ABC news in 2001 as an anchor on World News Now and World News This Morning. During the Iraq War she was embedded as a reporter. She also was a correspondent for Good Morning America and World News Weekends. Since 2005 Edwards has hosted 6abc's morning show, which is the top rated morning program in the Delaware Valley.
Edwards lives in Philadelphia with her husband Rocco Lugrine, a professional pastry chef, and their two sons. She was born in Georgia and raised in Texas. You can follow her on twitter at @TamEdwards6abc or catch the next Action News Broadcast.
Sponsors
Interested in becoming a sponsor of our 50th Anniversary Celebration? Download a sponsorship packet from the link below for more information and be sure to check out our current list of 50th Anniversary Celebration Sponsors.
The deadline to become a sponsor is September 24!
---
Getting to Cherry Street Pier
If taking public transportation, check SEPTA for schedules and alerts.
By Bike
Cherry Street Pier accommodates bike parking. The Delaware River Waterfront Corporation is also in the process of building out its multi-modal Delaware River Trail, connecting bikers to even more places along the river.
Philly's bike share program, Indego, has three easy-access stations within walking distance. These include: Race Street Pier, 2nd and Race, and 2nd and Market.
By Car
Cherry Street Pier is located at 121 N. Columbus Boulevard. It is directly south of the Race Street Pier on the east side of Columbus Boulevard.
Parking Information
Valet parking will be available on-site for a fee. There is no on-site parking lot.
The closest parking lots are located at Market Street or Vine Street and Columbus Boulevard. There are other parking lots and street parking along Columbus Boulevard and in nearby Old City.
By Bus
Market Street and the Waterfront are easily accessible by SEPTA bus routes 21, 42, 17, 33, and 48. These are three blocks from Cherry Street Pier. Route 25 runs along Columbus Boulevard and stops in front of the Pier.
By Rail
The SEPTA Market-Frankford Line (the Blue line) stops at Second Street and Market Street, located about a half a mile from Cherry Street Pier.
From the Market-Frankford Line stop, head North on Second Street. Turn right onto Race Street, cross under Interstate 95, then turn right onto Columbus Boulevard. Cherry Street Pier will be on the right, the first pier past Race Street Pier park.
By PATCO
PATCO Stops at 8th St. & Market St. The station is approximately a 20-minute walk to Cherry Street Pier, or change to the Market-Frankford Line to the Second & Market Street stop. To walk from the PATCO station, head East on Market Street, then turn left onto Second Street. Turn right onto Race Street, cross under Interstate 95, then turn right onto Columbus Boulevard. Cherry Street Pier will be on the right, the first pier past Race Street Pier park. Click here for the PATCO schedule.
---
Download our Save the Date Announcement (PDF)
For tickets, sponsorships and more information, contact: Michael Berton at mberton@pubintlaw.org or 267-546-1303.