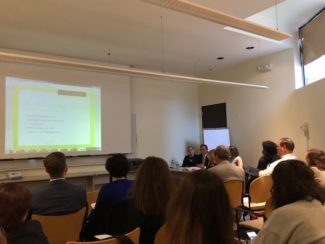 The Law Center's Garden Justice Legal Initiative (GJLI) broadened their impact in Philadelphia with a CLE and legal clinic, training over two dozen new attorneys and answering legal questions for several community gardens. Both events were hosted by Public Interest Law Center staff attorney Ebony Griffin.
On April 4, 2018, the Garden Justice Legal Initiative held a CLE, presenting a crash course on the legal tactics and strategies involved in representation and protection of threatened gardens. At the CLE, attorneys completed a questionnaire, which allowed them to articulate the type of representation they are willing to undertake, whether they are looking for long term or short term representation, and whether they are interested in volunteering at future clinics. The GJLI trained over two dozen attorneys at the CLE, preparing them to assist the stewards of vulnerable community gardens in Philadelphia.
The Garden Justice Legal Initiative followed the CLE with a legal clinic on April 18th, at the Pennsylvania Horticultural Society. At the clinic, pro bono attorneys were available to answer questions about the preservation of threatened community gardens. Several community growers had their questions answered, giving them additional tools to protect the land they tend. The GJLI plans to host several other similar clinics throughout the year.