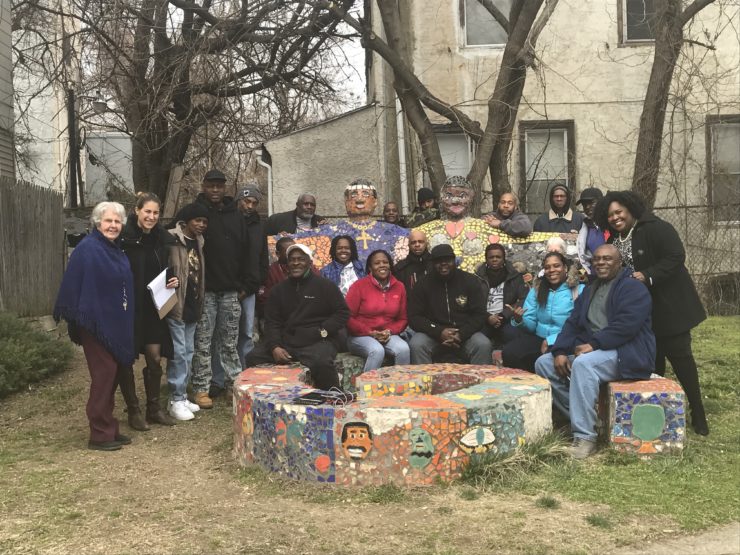 New Jerusalem, located on the west side of North Philadelphia, is a residential addiction recovery community run by Medical Mission Sisters. In the 1990s, the non-denominational organization took over vacant lots and turned them into fruit and vegetable gardens. The gardens serve as a local and fresh food source for the community as well as meditation spaces for the Sisters and people in recovery.
We represented New Jerusalem as part of our Garden Justice Legal Initiative. In Philadelphia, community spaces like New Jerusalem are facing intense pressure from development and gentrification. Through advocacy and legal action, we were able to help the Sisters secure possession of both privately owned and city owned vacant lots that they have stewarded and improved for more than 20 years.
In March 2018, we filed a successful adverse possession lawsuit that helped New Jerusalem obtain the deeds to two privately owned lots, with the help of pro bono counsel Morgan Lewis. Most of the garden's plots, however, were owned by the city. After several months of advocacy, in May 2018, Philadelphia's Vacant Properties Review Committee (VPRC) recommended that the city transfer ownership of five parcels of city owned land to New Jerusalem. We worked with the Philadelphia Land Bank to facilitate the transfer. New Jerusalem received the deed to a lot formerly owned the Land Bank in April of 2019, obtaining full legal ownership.
We continue to represent New Jerusalem to facilitate the transfer of the remaining lots recommended for transfer by the VPRC as well assist them in resolving other issues.