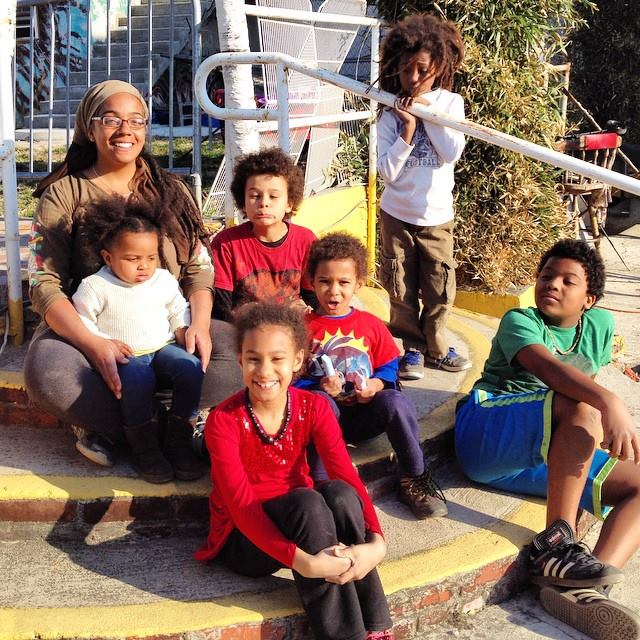 Written by Kirtrina Baxter
This is re-posted from GroundedInPhilly.org, a web mapping and organizing tool that provides access to data on vacant land throughout Philadelphia and offers resources to individuals interested in starting or preserving community-based vacant land projects. Click here to learn more about the website.
One Art Community Center (formerly Wall St. International) looks like a store-front on 52nd street near Lancaster Ave. However, if you've ever gone to an event there, once you walk through the wrought-iron front gate and the adjacent doors, you realize you just stepped into an oasis in the middle of the city. The doors open up to a courtyard of bustling activity with musicians playing and singing on a concert-sized stage, children running between their parents and the sand pit off to the back. Vendors are spread around selling food and wares, and there is an orchard off to one side while a small patch of grass with sandy edges offers you an island like view of the stage and people dancing. Bamboo fences trace the outer perimeter giving those walking it's border a feeling of solitude while enjoying the orchard and rich colorful wall art flows around the landscape telling the story of this artist and that. Wall St. International was the vision of the late Benjamin Reid, along his wife Malaika Hart. Over the years, she has worked tirelessly to continue to realize his vision in what is now One Art Community Center.
One Art is the continued manifestation of artists, musicians, healers, and dedicated community folk, coming together to create something warm, friendly, welcoming and beautiful in the city. Currently, Malaika Hart and her partner Jah One stewart a truly amazing space in the city. The love and thoughtful care shown to the community and the people in their lives is evident in what you see happening at the center. The One Art family hosts many different offerings for the community. Inside one of the buildings that completes the compound-like center, is the Selah Moon Healing Center that includes a raw foods cafe, a gift shop and room for workshops. Another building holds a larger space that offers room for children's birthday parties, gathering or classes. Once I saw a bouncy house in there! And of course there is the courtyard that offers a stage, vendor space, and multiple seating areas, as well as bathrooms, a children's space and very soon an Earthship. The One Art Oasis, completes its offerings with a park-like setting and community garden.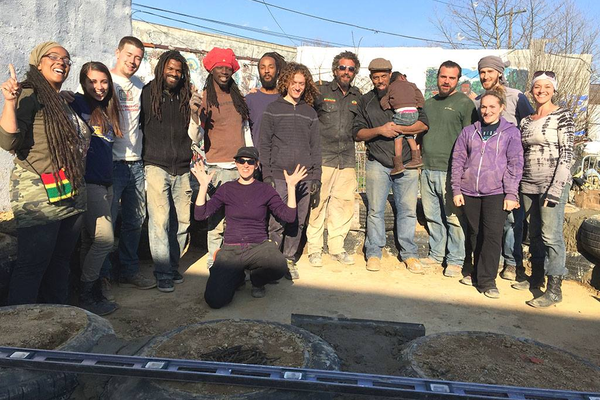 Along with offering community events and alternative healing facilities, the last ten years, or so, One Art has worked to clean up the lots in back of the center. These lots had been trashed and dumped on for years. In the past, they tried to get control of these lots with no success. Still they continued to clean and green the lots. Over the last five years, they have worked with PHS to have trees planted and more recently created a community garden, where their summer interns learn how to grow food. However, until recently, they had no authority to be on the land.
Like a lot of residents and community groups in the city, One Art saw the cleaning and greening of these lots as part of their responsibility as good citizens. Also like a lot of folks in the city they had no legal right to be on this land, no land tenure. Well, this has changed! After spending the last year working diligently to put their "house in order" One Art Community Center, with the support and help of the Garden Justice Legal Initiative and Councilwoman Blackwell's office, will indeed have legal access to the lots behind the center. Hart is working with Councilwoman Blackwell's office to procure 3 lots immediately, with plans to acquire the additional lots in the near future. This is a huge win for community agriculture in the city. The space has since been dubbed The One Art Oasis.
With plans that include expanding their community garden, working with Philly Orchard Project to create a food forest, and building an Earthship, which is a biotechnological green building- that will overlook this garden space, One Art Community Center is leading the way in community-supported urban sustainability. They have hosted healing garden parties, reggae concerts, art shows, green building design classes, birthday parties, metaphysical conferences, a community design charet and more! With green buildings, orchards, gardens, music and art, One Art is a model of what is possible through true support, partnership, collaboration and love.