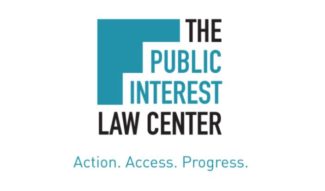 COVID-19 has highlighted and exacerbated stark disparities within communities across the country. Our mission is to help people who face discrimination and poverty assert their right to access fundamental resources like housing, employment, education and more. We have continued this work during the present crisis.
All Law Center staff continue to work remotely, supporting our clients, pushing for new policy to address new challenges, and filing high-impact litigation aimed at creating lasting change. We have fought for renters, inmates, students, small business owners, gardeners and others in the Philadelphia region and beyond who face new barriers as we take on COVID-19. Read on to learn more about our efforts across our six practice areas.
If you or someone you know is seeking assistance, visit our Get Help page.
Education
Our case challenging Pennsylvania's inadequate and inequitable school funding system continues to move forward. We are conducting depositions virtually and continuing to gather evidence. Fact discovery is set to conclude on June 1, and expert reports will be served by June 29. Trial is tentatively scheduled for fall 2020.
The COVID-19 crisis has illustrated the massive resource gaps between school districts in Pennsylvania, as many districts struggled to provide remote instruction. "It's showing the cracks in the system between the 'have-nots' and the 'haves,' so that the 'have-nots,' who probably have the greatest needs, are the least able to provide the missing resources," said our attorney Michael Churchill. We continue to monitor the effects that this crisis will have on state and local education funding. The disparities we are seeing between districts were not created by the COVID-19 crisis; they have come about through years of under-funding from our leaders in Harrisburg. We will continue to advocate for a system that provides all Pennsylvania students with the educational resources necessary to meet their needs, wherever they live.
During this crisis, we are urging school districts to provide remote instruction to all students, including those with disabilities and English language learners. On March 23, we joined more than 70 organizations to sign a letter drafted by the Education Law Center calling for an executive order and strong guidance to school districts.
Employment
As part of the CARES Act, Congress authorized $350 billion in loans and grants administered by the Small Business Administration (SBA) to support small businesses. This vital relief was blocked for thousands of businesses across the country because their owners have a criminal history. In some cases, business owners were rejected who were arrested but never convicted. Unemployment is already high for Americans with criminal histories, and a significant number of these individuals start their own businesses after struggling in the job market. These businesses, in turn, are often more willing to hire workers with records.
Working with Community Legal Services and the Collateral Consequences Resource Center, we drafted a letter to congressional lawmakers and advocates, urging them to ensure that the SBA to removes the arbitrary barriers that business owners with criminal histories face when seeking COVID-19 relief aid. This letter has been signed by more than a dozen organizations across the country.
Environmental Justice
We continue our work supporting community gardens and urban farms through our Garden Justice Legal Initiative. In this moment, the local access to fresh food and green space that gardens and farms provide are more important than ever.
We worked with Soil Generation, Neighborhood Gardens Trust, the Pennsylvania Horticultural Society, the City of Philadelphia, and other organizations across the City to compile resources and information on COVID-19 for community gardeners and others in the urban agriculture community. We host and frequently update this information on our Grounded in Philly website.
On Friday, April 17, we held our first virtual Vacant Land 215 training. More than 70 gardeners from across the region attended to learn more about how to establish gardens on vacant land and how to stay safe while gardening during this global pandemic.
Healthcare
Social distancing is not possible in crowded prisons, and inmates of prisons and jails face some of the starkest risks of infection from COVID-19. In downtown Philadelphia, more than 1,000 individuals, most of whom are detainees awaiting trial, live two per cell in the Federal Detention Center (FDC). Testing and personal protective equipment are virtually non-existent. On April 15, we filed a class action lawsuit on behalf of all detainees of the FDC in Philadelphia, urging the federal jail to take immediate action to protect inmates from COVID-19.
Our clients are seeking the immediate release of medically vulnerable inmates to home confinement and action to protect those who remain incarcerated. We are representing three named plaintiffs—Timothy Brown, Myles Hannigan, and Anthony Hall—work with pro bono counsel from Dilworth Paxson LLP and attorney Jim Davy.
Housing
On March 12, as schools and non-essential businesses began to close across Philadelphia, we drafted a letter in support of an immediate moratorium on evictions, which was signed by more than 20 legal service and tenant organizations. On March 15, Philadelphia municipal courts suspended eviction procedures. There is currently a statewide moratorium on evictions in effect until at least April 30. On March 31, we joined more than a dozen organizations to urge Philadelphia City Council to focus on housing stability in the wake of the crisis with policies like rent & mortgage waivers and extended windows for repayment.
Our work to protect low-income tenants does end there. Renters at the margins of the housing market are already at risk for illegal lockouts–landlords taking matters into their own hands and trying to force out tenants by shutting off utilities, changing locks, or issuing threats. Those in more tenuous housing situations, such as unlicensed boarding houses or under oral lease, are most at risk. With eviction court closed, and with thousands of tenants losing income, these illegal evictions could become more common–and we have seen a spike in these cases in Philadelphia.
We are joining legal aid organizations across the city to take referrals from the Tenant Legal Aid hotline at 267-443-2500. We have secured court orders for several tenants who were illegally forced out of their homes, mandating that their landlord allow them to stay. Working with the Courts, we have helped develop new procedures to allow these urgent cases to proceed quickly.
Renters United / Inquilinxs en la Lucha Philadelphia (RUP), a new organization we launched last year, continues to organize and educate renters to fight for their rights to quality housing, using online and mobile tools to organize without holding meetings in person. Currently, RUP members in Frankford who are tenants of MCM Management Solutions, a company with more than 30 large multi-unit proprieties, are organizing to demand safe and secure housing, an end to arbitrary rent increases, and a plan to support tenants as they take on COVID-19. Read their full list of demands and sign their petition here, and follow RUP's Facebook page for the latest updates.
Voting
More than 600,000 Pennsylvania voters have requested a mail-in or absentee ballot for the June 2nd primary election. Pennsylvania's no-excuse-needed mail-in ballot system, available for the first time this year, is now a vital tool to protect public health as we face COVID-19. But the rules for voting by mail were written for a pre-pandemic world.
Citizens voting by mail will encounter a postal system under immense strain and county boards of elections facing an unprecedented surge in applications. Voters who are most at risk from the COVID-19 pandemic fear that these new challenges could leave them disenfranchised—even if they follow all the rules.
On April 27, organizations representing voters across the state, and an individual voter, filed suit in the Pennsylvania Supreme Court to ensure that ballots will count during this crisis. They demand that Pennsylvania allow all mail-in and absentee ballots sent or postmarked by Election Day and received within seven days to be counted during this public health emergency. This would extend the current deadline, which requires all mailed ballots to be received by county officials by Election Day.
Disability Rights Pennsylvania, the SeniorLAW Center, the Southeast Asian Mutual Assistance Associations Coalition (SEAMAAC), the Barrister's Association of Philadelphia, and voter Suzanne Erb are represented by the Public Interest Law Center and pro bono co-counsel from Arnold & Porter.