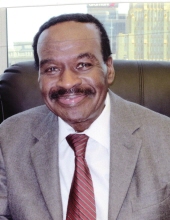 We are sad to report the death of our former colleague, Frank Finch III, on Tuesday, October 16th, after a four month struggle with cancer. Condolences and flowers can be sent to his loved ones online via the Donohue Funeral Home.
Frank was a solo practitioner most of his career, doing both criminal defense and civil litigation, but he had a stint at the ACLU before joining the Law Center. He was the second Black attorney in our office when he joined in 1977. His best known client was Penny Brace, the woman who challenged the Philadelphia Police Department for its refusal to hire women as police officers. In that case he took on a City administration under Frank Rizzo and Commissioner O'Neill which was fully committed to litigating its refusal. The Justice Department also intervened, and had significant disagreements with Brace about how to resolve the case and how to enforce any decree.
Frank started his representation while in his own practice and brought the case with him to the Law Center, which assisted him in the enforcement phases. Frank was one of the few lawyers Brace trusted, and it was clear why this outspoken white woman relied on this soft-spoken Black man: he was singularly devoted to his client's needs, with no agenda of his own. Although Frank was highly skilled, he was completely candid about the difficulty of predicting what was going to happen, and he was fearless, despite the enormous hostility the case generated.
To give an example, we have recently come upon a report by Commissioner O'Neill, "Women As Police Officers" which demonstrates the opposition Frank faced with fortitude and poise. It begins:
"The Philadelphia Police Department is unalterably opposed to the theory that females can perform the police function in an urban setting as well as males.. . .Female officers are not as effective as male officers . . . .Women react slower and are less coordinated than men . .  .are not physically capable of handling violent incidents on patrol…. They are less likely to take charge at an incident…."
This goes on for more than 20 pages.
Frank and Penny Brace won the case, facing down the prejudice of the City and its police department, securing a victory for women professionals in Philadelphia.
Frank also had brought one of the two cases which established the right to extended school year programs (summer school and vacations) for students with disabilities. At the Law Center, Frank handled employment discrimination cases based on race or disability for four years in the late 1970s and early 1980s. One of the most interesting involved his attempt to negotiate with Mayor Green to establish a lottery system for qualified police officer candidates in order to end racially discriminatory exams. After Frank left the Law Center, we continued to refer many cases concerning employment and special education to his practice. He would investigate their viability without fee, and joined us as co-counsel on several cases. One of those—Freeman v. City of Philadelphia—finally ended the racial impact of Philadelphia police hiring exams.
"The Law Center was fortunate to have such an exemplar of the spirit of justice on its staff and as an outstanding member of its community of alumni." – Michael Churchill
"For a person dependent upon the income from his practice, Frank was remarkably generous with his assistance," said Michael Churchill, who worked with Frank. "Frank was devoted to equality and fairness. That was why he was a lawyer. Politeness and courtesy to all were hallmarks of Frank's manner, wherever he was, not just in court. He also had a wonderful laughter, usually provoked by the ridiculousness of his client's opponent, but occasionally by some strange deed of his client. Frank did not shirk at the hard work of putting a case together –usually without much assistance. Although Frank was militant in his quest for racial justice, he saw it as part of the need for justice for all, and he never hesitated to represent persons of any race. The Law Center was fortunate to have such an exemplar of the spirit of justice on its staff and as an outstanding member of its community of alumni."
Frank Finch III's funeral service will be Friday, Oct. 26, 2018 at The Donohue Funeral Home, 8401 West Chester Pike, Upper Darby, Pa. at 11 am., visitation from 10 am.