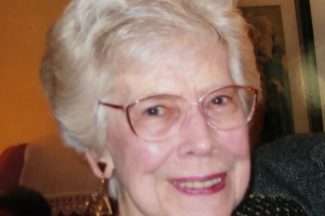 December 18, 2019 — The Public Interest Law Center joins the entire disability rights community in remembering the life of Eleanor Elkin, who passed away on December 4 at the age of 103. Friends and colleagues recall her as a driven advocate, who spoke with passion and grace about the rights of people with disability.
Eleanor became involved with the Law Center during its earliest years, after she had served two years as President of the national ARC, now the ARC of the USA.  Chief Counsel Thomas K. Gilhhool asked her join the organization as an employee as it was litigating its groundbreaking disability cases PARC v. Commonwealth of Pennsylvania, which established that children with disabilities have the right to receive a free public education alongside their peers; and Halderman v. Pennhurst, a lawsuit on behalf of Pennhurst residents and their families that helped spark the movement for services based in the community.
"Job titles didn't matter, we just needed to do the work," recalled Carla Morgan, another employee drafted by Gilhool who later became a Master in implementing a settlement of the Pennhurst litigation.
Colleagues from those days recall Eleanor's deep knowledge of the history of the disability rights movement. Gilhool cites her research, digging up historical nuggets that made their way into legal briefs, such as the 1905 veto by Governor Pennypacker of a Pennsylvania bill mandating compulsory sterilization of people with disabilities. Morgan recalls that, because Eleanor had long listened to parents of people who had lived at Pennhurst,  "she had a deep understanding of how awful life was, but she could also convey to them what was possible living outside the institution."
After the Pennhurst case, the Law Center received requests from advocates across the country for assistance in organizing and litigating the creation of community-based services. "Eleanor was the glorious glue that held the lawyers and interdisciplinary team together to deliver national technical assistance in organizing, training, as well as direct legal assistance," said former Law Center lawyer Frank Laski, who worked with Eleanor. "She appreciated the work of the Law Center as both an advocate for disability rights and as an advocate for using the courts and parent power to make those rights real. Her high standards for her own work matched the Law Center's standards for achieving equality, self-determination and quality outcomes for all children and adults with disabilities."
Laski recalled that Eleanor's experience and success in advocacy around the world influenced the Law Center's work making sure that court orders across the country mandating the creation of community-based services were successfully implemented. "She impacted thousands  of lives in profound ways," he said.
Eleanor was also a valued member of the Law Center staff because of her connections to advocates in the disability community.  She helped find people who could testify vividly about what life was like in institutions, and how their lives improved dramatically after they began to live in the community.  According to Morgan: "She made the judge understand; she could reassure parents that their children would be better living in the community.  She had a personal, human touch and the history."
Throughout her life—before, during and after her work at the Law Center–Eleanor's words were her most powerful tool.  According to Gilhool, "her words were a breath of fresh air." Jim Wilson, who followed Eleanor as president of the national ARC and served as president of the ARC of Pennsylvania while the PARC case was being prepared, recalls that she was a driven advocate, always pressing him to do more, but with grace and charm.
The Law Center's current Executive Director, Jennifer Clarke, recalls Eleanor, decades later, still fighting to ensure that the Law Center would have the resources to continue taking the important disability rights cases.  "The work Eleanor began all those years ago still is not complete," said Clarke. "We will miss her and take inspiration from her life."