The Public Interest Law Center of Philadelphia joined The Campaign for Fair Education Funding, which formally launched on October 6.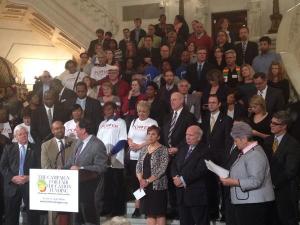 The campaign, which is a statewide, non-partisan effort supported by a growing list of more than 40 organizations, kicked off with a news conference in Harrisburg. Included among the member organizations are business groups, charter schools, child advocates, educators, faith-based organizations, labor, traditional public schools, and representatives from rural, urban and expanding school districts.
This campaign seeks to bring more public awareness to the policy discussion revolving around public school funding and to facilitate a consensus among the many invested parties. It will neither promote nor oppose individual candidates for office. Instead, it will endorse a goal to cross party lines. By 2016, the campaign endeavors to see Pennsylvania adopt a long-term, sustainable, and transparent funding method that will provide an equitable and quality education for every PA child regardless of where they live.
The Law Center is a leading voice in the fight for more equal funding for Pennsylvania's public schools. Recently, we advocated for an increase in funding for the School District of Philadelphia through a variety of means, including a cigarette tax. Before that, we played a central role in the advocacy campaign that led Governor Edward Rendell to increase the Pennsylvania education budget by over $750 million and adopt a new formula to allocate the funds more equitably.
For more information on the Fair Funding PA campaign, visit www.fairfundingPA.org.
Click here for more information about our education funding work.