On July 13, 2015, we received the Juanita Jackson Mitchell Award from the NAACP at its annual convention.
The NAACP Office of General Counsel selected the Public Interest Law Center for this award because of our decades of partnership on civil rights issues. Michael Churchill accepted the award on the organization's behalf. Here are his thoughts about the honor.
"It is an honor for the Public Interest Law Center to receive this award from the NAACP.  The NAACP provided the model for sustained activism for social justice which inspired the founders of the Law Center.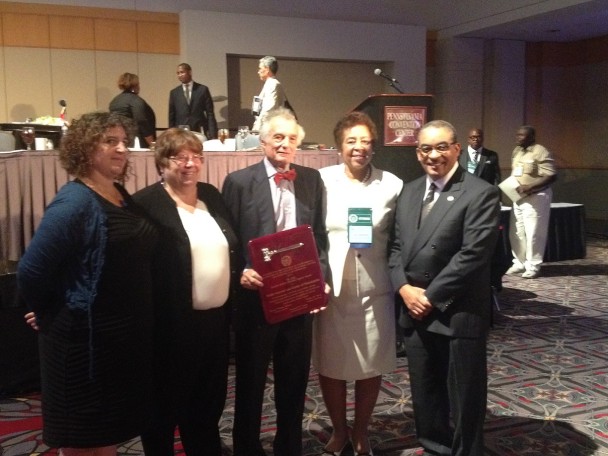 "Our earliest work in the late 60s was centered on abusive policing policies associated with the name Mayor Frank Rizzo. Those practices were directed principally at racial minorities and it was the NAACP which led so many of the public protests. You were there in the battle for equal justice then, and you have persisted to be there today. When it came to fighting for fair funding for schools with heavy concentrations of minority students, you were there then, and you have persisted to be there today not only in Pennsylvania, but around the nation. And when it came time to combat the disenfranchisement of hundreds of thousands of voters in Pennsylvania, the NAACP was there when needed and you have persisted to continue that fight today.
"In all of these actions, and many others, the Law Center has been glad to provide the legal skills and strategies necessary to complement the advocacy of the NAACP's Pennsylvania chapters. Our services are free to our clients; our lawyers and staff work for wages well below what could be earned in the private market; our board members volunteer their time; and we partner with pro bono attorneys contributing their services. Because we believe, like you in  the NAACP, that justice is a necessity for freedom and liberty to exist.
"We still have a long way to go on the path to justice. We cannot let notable milestones like that in South Carolina last week to cause us to forget the nine deaths which had to be endured to achieve the lowering of that symbol, nor to let us mistake markers on the road for the destination. There is much work to be done, and we will persist in that fight with you and our growing number of allies. The Law Center is pleased to receive this recognition of its work, and proud to be engaged with you in this struggle for racial, economic and social justice that is the true basis for the equal citizenship promised to all by our Constitution's Fourteenth Amendment. Thank you."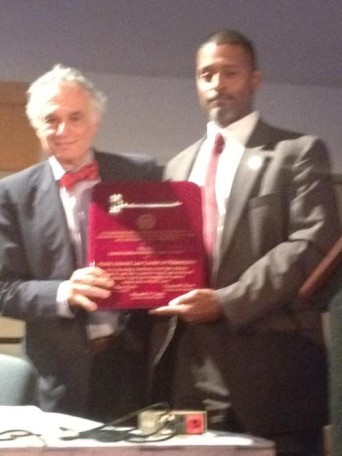 The Public Interest Law Center has always had a strong partnership with the NAACP. Two recent partnerships have been especially fruitful. Most recently, in November 2014, we filed a lawsuit on behalf of six school districts, seven parents, the NAACP Pennsylvania State Conference, and the Pennsylvania Association of Rural and Small Schools (PARSS) against leaders and officials for failing to meet their constitutional obligation to provide a thorough and efficient public education system. This case is currently on appeal to the Pennsylvania Supreme Court.
We also partnered with the NAACP in 2012 to challenge Pennsylvania's voter ID law, which would have required voters to present narrow, specific types of photo ID in order to vote. This requirement would have been an obstacle for many low-income, disabled, elderly, and minority voters who could not obtain appropriate ID. In early 2014, our challenge succeeded when the state decided not to appeal a Commonwealth Court judge's ruling that prohibited the enforcement of this law.
Juanita Jackson Mitchell was the first African American woman to graduate from the University of Maryland with a law degree and to be admitted to the Maryland bar. She taught race relations with the Bureau of Negro Work and initiated two youth movements from 1931 to 1935. In 1942, she led a campaign to register over 11,000 new voters in Maryland. She joined the NAACP and worked with Thurgood Marshall to desegregate Maryland. She desegregated Maryland's public spaces, including schools, lobbied for civil rights legislation, and became the NAACP's president. The NAACP created this award to honor Juanita Jackson Mitchell and recognize an NAACP ally for exemplary legal redress. The Juanita Jackson Mitchell Award reflects our dedication to secure meaningful and long-lasting change.
We are humbled and honored by this extraordinary award. We will continue to use high-impact legal strategies to improve the lives of Philadelphia's most vulnerable communities in partnership with organizations like the NAACP.