On January 19, 2015, the Barristers' Association of Philadelphia presented the Law Center with the Dr. Martin Luther King, Jr. Award for Outstanding Service to the Community.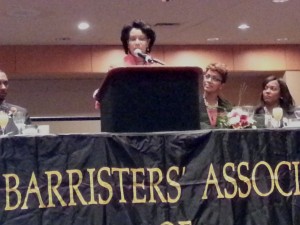 The award recognizes organizations that have not only met the needs for diversity and inclusion within the legal community, but have also made exceptional strides towards ensuring social justice and equal opportunity for minorities and people of color in the Philadelphia community.
Dean JoAnne Epps, Dean of the Temple University Beasley School of Law, presented the award to the Law Center and executive director Jennifer Clarke.
"Founded in 1969, PILCOP has been since that time the go-to organization to set things right – particularly targeting policies and practices that perpetuate discrimination, inequality and poverty. PILCOP lawyers use the law to keep the civil rights movement of the 1960s alive for the continuing number of people for whom access to equal opportunity remains an unrealized dream," Dean Epps said in her speech.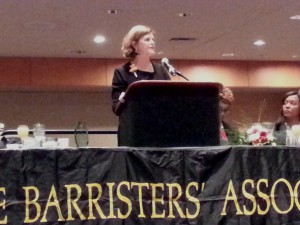 Ms. Clarke received the award on behalf of the Law Center. In her acceptance speech, she emphasized the importance of action and community efforts in enacting social justice. "It may be true that the moral arc of the universe bends toward justice. That is possible. But what I know to be true is that the arc will not bend if we do nothing. It will take a force field of action for that arc to bend. It takes every one of you."
Click here to read Dean Epps' full speech.