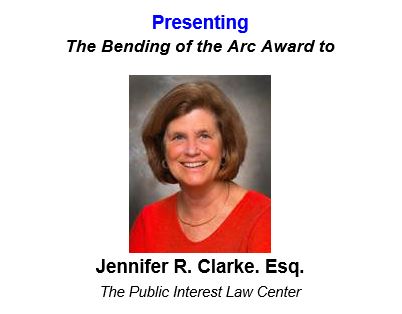 On Friday, December 4, our Executive Director Jennifer Clarke was honored with the 2020 Bending the ARC Award from the Public Interest Section of the Philadelphia Bar Association, recognizing her 14 years of leadership and service to the Law Center, helping the organization achieve tremendously impactful victories for equal justice and civil rights.
Each year, the Public Interest Section of the Philadelphia Bar Association honors a legal services advocate or public defender with the The Bending the ARC Award, recognizing Achievement, Resilience, and Courage. The award-winner must work for, or be associated with, an organization whose purpose is to serve persons who cannot afford to pay for legal representation, or be a public-interest lawyer working with a nonprofit organization serving a charitable or public interest purpose.
Under Jennifer's leadership, the Law Center won landmark victories for voters' rights. The Law Center helped lead the case striking down a proposed Pennsylvania Voter ID law in 2012; and in 2018, the organization successfully challenged Pennsylvania's 2011 U.S Congressional District Map, one of the most egregious partisan gerrymanders in the country. In addition, Jennifer led the Law Center in persuading the Pennsylvania Supreme Court to reverse 40 years of precedent by agreeing to hear a challenge to the state's unfair and inadequate funding of public education; securing a settlement in a Medicaid case in Florida providing increased access to health and dental care for 1.9 million children; and other major efforts to take on poverty and discrimination.
After leading the Law Center since 2006 as our Executive Director, Jennifer will step down at the end of 2020. All of us are grateful for her exemplary stewardship of our organization during her tenure.
Congratulations Jennifer on this well-deserved honor!