Congratulations to former Law Center intern Jordan Konell, who was named one of 32 Rhodes Scholars for 2015.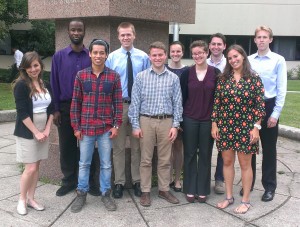 After being awarded the Arthur Liman Fellowship for Public Interest Law, Mr. Konell worked as a legal intern for the Law Center during summer 2014, aiding staff attorneys in litigation and ongoing projects. With staff attorneys Ben Geffen and Amy Laura Cahn, Konell became a critical part of correspondence, organization, assistance, and research for our Philly Complaints litigation. With Michael Churchill, Konell co-authored a report on the impact of pension costs on Pennsylvania classrooms and legislative recommendations. And, with Jason Fortenberry and Sonja Kerr, Konell closed one early intervention special education case and organized document litigation for another case.
Mr. Konell will use his scholarship to pursue a master's degree in Comparative Social Policy at Oxford University in England. Currently, he is a senior at Yale.
Rhodes Scholarships were created in 1902 by the will of British philanthropist Cecil Rhodes. Winners are selected on the basis of high academic achievement, personal integrity, leadership potential and physical vigor, among other attributes.
The Law Center applauds Jordan Konell for his most recent success!