The Law Center's director of the Garden Justice Legal Initiative will be honored by HIAS Pennsylvania in September. 
Amy Laura Cahn is receiving the award for her work with the HIAS Refugee Resettlement Program. Recently she advised HIAS and their Bhutanese clients on how to obtain land for gardening in Northeast Philadelphia. She connected HIAS to Partners for Sacred Places, which helped them negotiate with a faith-based partner to secure a parcel of vacant land. There are seven refugee families gardening on the newly secured land to start. Click here for a gallery from the garden kickoff.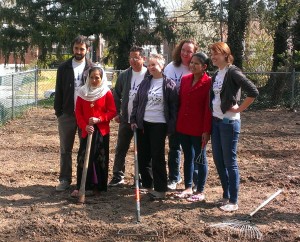 As director of the Garden Justice Legal Initiative, Ms. Cahn provides legal and advocacy support to community gardens and farms in historically disinvested communities, and works on environmental justice issues. The Law Center's Board of Directors, staff and clients applaud Ms. Cahn's commitment to her clients and environmental justice in Philadelphia.
She will receive the award on Wednesday, September 17, 2014, during HIAS Pennsylvania's annual luncheon meeting. This year's meeting will be held from 12 noon to 1:30 P.M. at Lindy Board Room, 2nd floor of the Jewish Community Services Building, 2100 Arch Street, Philadelphia, PA 19103. You can purchase tickets here.
For more information on Ms. Cahn, click here, or follow her on Twitter: @AmyLauraCahn