The Law Center is an equal opportunity employer and encourages all candidates to apply regardless of race, ethnicity, national origin, religion, gender, gender identity, sexual orientation, disability, age, marital status, or status with regard to public assistance.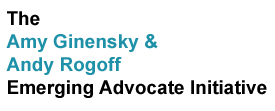 The Amy Ginensky and Andy Rogoff Emerging Advocate Initiative
The Amy Ginensky & Andy Rogoff Emerging Advocate Initiative is our internship program for law students seeking an opportunity to immerse themselves in high impact legal work.
At the Law Center, students will gain experience in civil rights law and learn the inner workings of one of Philadelphia's premier public interest firms. Law Center attorneys, organizers and staff are committed to helping train the next generation of civil rights attorneys, advocates, and nonprofit leaders. Through our internship program, we offer mentorship and support; host guest speakers and other opportunities to learn more about a variety of areas of law and public interest advocacy; and provide practical education in skills like legal writing.
All internship positions are located in Philadelphia, Pennsylvania. We encourage students to seek outside funding opportunities, work-study availability or school credit and we will gladly handle any necessary administrative requirements. We offer limited funding opportunities for law students through the Clarke Scholars Fund for the summer program.
The Public Interest Law Center values a diverse, equitable and inclusive work environment where law students of all backgrounds have a sense of belonging and can thrive. We encourage students of all diverse backgrounds to apply.  We welcome you to share with us in your application how your diversity influences your decision to pursue a public interest internship and how your life experiences inform your commitment to racial and social justice and to the client communities we serve.
Legal Interns
We offer legal internships year-round. We primarily hire 2L and 3L interns due to our practice, which requires advanced legal research and writing skills, but welcome 1L applications and regularly offer positions to standout 1L candidates.
We give legal interns significant responsibilities on substantive legal projects in the areas of voting, education, housing, employment, health care, and environmental justice. Over the course of a term, interns typically complete assignments in several of these practice areas and can pursue work related to areas of particular interest. Assignments include legal research and writing; drafting briefs, pleadings, and discovery requests; reviewing and analyzing discovery responses and documents; interviewing clients and witnesses; and preparing policy memoranda and proposed legislation. Interns interested in community lawyering also have the opportunity to work alongside community lawyers and organizers to support outreach and relationship building efforts, community meetings and clinics, and collective direct actions. Interns also gain practical experience through shadowing attorneys at meetings and court appearances.
We seek applicants with the following qualifications:
Excellent analytical and research skills;
Demonstrated excellence in legal writing;
Initiative and creativity;
Collaborative skills and capacity for teamwork with colleagues and clients;
Enthusiasm about our mission.
Undergraduate Interns
We offer limited opportunities (usually one summer program position) for undergraduate students. We are not currently accepting applications for semester undergraduate internships.
We give undergraduate interns significant responsibilities in the areas of voting, education, housing, employment, health care, and environmental justice. Undergraduate interns will have an opportunity to explore and experience high impact legal work. Undergraduates complete assignments in various practice areas and can pursue work related to areas of particular interest. Assignments include factual research and investigation; drafting memoranda; reviewing and analyzing data and documents; supporting organizing efforts and community education. Undergraduates also gain practical experience through shadowing attorneys and organizers.
Application Deadlines
For semester law student internships, we review applications and extend offers on a rolling basis. For fall internships, we begin reviewing applications in early June. For spring internships, we begin reviewing applications in early October. We are not currently accepting applications for semester undergraduate internships.
For summer internships, we review applications and extend offers on a rolling basis, beginning in early September.
Here's what some of our past interns have to say about their experience:
"It has been a privilege to work as an intern at the Public Interest Law Center. I have enjoyed each and every experience, from policy research to administrative projects. The highlight of my experience was getting to work with such a vibrant, accomplished, and congenial group of staff." – Jim Hwan Jung, former intern
"Interning at the Law Center gave me the invaluable opportunity to observe and contribute to the day-to-day work of community-based impact litigation. Getting to work with the generous, talented, and committed team made my internship incredibly rewarding and fun. I have the Law Center to thank for showing me how the law can be leveraged to create change, and for inspiring me to pursue a public interest career." – Claire Ewing-Nelson, former intern.
---
How to Apply
This is a competitive process and we will select candidates on a rolling basis as we receive applications.
To apply, submit a letter, resume, and writing sample. Your cover letter should be 1-2 pages long and should include a statement of your reasons for seeking an internship at the Public Interest Law Center. If possible, please format your materials as a single PDF file. Please send these materials by email or mail to internships@pubintlaw.org
Note: Penn Law School students must apply for fall and spring semester internships through the Gittis Externship application process. Penn Law students should apply for summer internships using our typical process.
The Law Center is committed to keeping children safe, and each person serving as an intern is responsible for meeting the requirements of the Law Center's Child Safeguarding Code of Conduct.
---
Clarke Scholars Fund Application (Summer 2023)
Note: we will accept applications on a rolling basis for the 2024 Clarke Scholars fund beginning in September 2023.
Purpose and Eligibility
Named after the Law Center's former Executive Director, Jennifer R. Clarke, The Clarke Scholars Fund aims to increase the diversity pipeline of the legal profession by providing funding to law students from underrepresented communities who otherwise could not afford to intern at a public interest program due to financial hardship. This program will provide a stipend of $10,000 for one law student who would not otherwise have the means to accept a summer internship with the Law Center. In addition to funding, Clarke Scholars will have the opportunity to meet with Jenny Clarke throughout the summer for mentoring and to discuss their internship and professional goals.
In addition to demonstrating a commitment to public interest work and a strong academic record, Clarke Scholar applicants should demonstrate financial need. Financial need includes if your law school does not provide sufficient funding or a stipend for summer internships.
---
How to Apply
Along with the regular application materials listed on our website (cover letter, resume, writing sample), to apply to be a Clarke Scholar, please submit a 1-page personal statement that includes the following information:
Background: Tell us about yourself, your decision to go to law school, your interest in public interest law, and any noteworthy experiences or achievements in your personal or professional path.

 

Career Goals: What do you hope to accomplish in your career?

 

Diversity: If applicable, please tell us about your diverse background and how your diversity and lived experiences might contribute to the diversity, cultural vitality, and perspective of our organization and legal practice.

 

Financial Need: Please provide an explanation of your financial need and how this scholarship will assist you and allow you to intern with us.

 
Please submit all materials by email to Mimi McKenzie (mmckenzie@pubintlaw.org) and internships@pubintlaw.org. After the Law Center reviews application materials and conducts first-round interviews as part of our regular hiring process, exceptional Clarke Scholars candidates will be invited for a second-round interview with Jenny Clarke.