Join us for a free art show and open house on Tuesday, October 20 from 5 – 7 p.m.
View and purchase art created by artists with disabilities that are part of Community Integrated Services' (CIS) Outside the Frame program.
Outside the Frame
Free art show and open house
Tuesday, October 20, 5 — 7 p.m.
1709 Benjamin Franklin Parkway, 2nd Floor
Philadelphia, PA 19103
Click here to register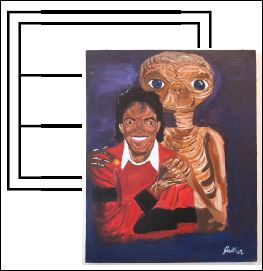 Through this partnership with CIS and our Disability Employment Discrimination Project, we will showcase work by artists and artisans receiving employment services from CIS. Featured artists include Jaither West, Woodley White, Deb Miller and Bob Billbrough. These artists have talent and passion for their individual forms of artistic expression but lack the opportunity to develop their talents and see where their passion might take them. Outside the Frame is one of the few efforts nationally to support artists with intellectual and multiple disabilities to explore their artistic interests and develop them into income producing opportunities.
It is free to attend the event. Art can be purchased with cash or check.
Artist Bios
Bob Billbrough was born in the Kensington neighborhood of Philadelphia in 1965. At age 17 Bob left home and traveled throughout Pennsylvania before returning and settling in Philadelphia. Bob draws inspiration from his physical environment, personal history and recreated memories. His artwork references his everyday life contrasted with people he hopes to meet, things he wishes to see, and experiences he hopes to create through his mark-making. Bob lives in Northeast Philly surrounded by houseplants.
Jaither West is a self-taught painter living and working in Philadelphia. His work focuses on his everyday life—from famous personalities like Michael Jackson and John F. Kennedy to the individuals he sees every day on his commute. Jaither often incorporates his daily activities and experiences into his paintings through the presence of himself breakdancing or through his densely rendered paintings and drawings of his SEPTA commute. West has studied at Temple University and Fleisher Art Memorial and has participated in group exhibitions at Frame Works Gallery, AIRspace, Neighborhood Bikeworks, F & N Gallery, Fringe Salon and Art in City Hall as well as solo exhibitions at OCF Café and Starbucks in Philadelphia.
Woodley White creates artwork that shows a keen eye for detail and a passion for his subject matter. It is not uncommon for Woodley to draw the same subject hundreds of times across all media and on various surfaces. Each aspect of Woodley's work is deeply considered, from the placement on the page to the intense line quality. The repetitive nature of his work conveys the Woodley's passion for his subject matter and the focus of his observation. His work has recently begun to include portraits of people found in books and magazines. Woodley has shown his work throughout Philadelphia, including exhibitions at AIRspace and the InLiquid exhibition space at Crane Arts.
Deborah Miller is a self-taught painter living and working in Norristown, PA. She has been painting for over 15 years. Her brightly colored abstracts are inspired by her travels and memories. Deborah's movement and physical limitations have a great influence on her work. Her paintings visualize each motion and are created through the affects of her physical abilities. Her work allows the viewer to share in both her memories and the experience of her body. Deborah has shown her work throughout the Philadelphia Area, most recently in Moss Rehab's All About Art exhibition at the Abington Art Center where she was awarded 2nd place in the Painting on Canvas category.