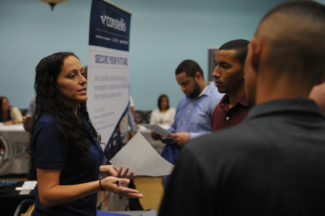 Americans with criminal records–as many as one in three adults–face many challenges and biases in the hiring process. The unemployment rate for those returning from incarceration is a staggering 27 percent, higher than even the worse years of the Great Depression. Qualified applicants can find themselves shut out of jobs based on mistakes they have long-since paid for. This bias has huge effects on the economic outlook of many communities, disproportionately impacting the African American and Latino communities that have faced the worst effects of mass incarceration.
There are many state and local laws that protect applicants with records from discrimination in Philadelphia and Pennsylvania, but both job-seekers and employers are often unaware of these laws. Join us for a webinar to learn more about the challenges faced by applicants with criminal records and what employers can do to help them. In this free presentation, learn more about the rights of job-seekers with criminal histories, how to use tools like Pennsylvania's Clean Slate Law to clear criminal history, and the work we are doing to promote fairness for these job-seekers.
Date: Friday, April 10, 2020
Place: Online via Zoom
Time: 1-2 p.m.
Download a flyer for this event here.