This year, the Law Center is participating in #GivingTuesday, a global giving movement that has been built by individuals, families, organizations, and businesses around the world. Millions come together every year to support and champion the causes they believe in and the communities in which they live. #GivingTuesday falls each year on the Tuesday after Thanksgiving, which this year is December 1, 2020.
Just for Giving Tuesday, your gift will make twice the impact! Your donation will be matched $1-for-$1, up to $10,000, thanks to a generous matching gift from Reed Smith LLP.

With any gift of $50 or more, you can receive a t-shirt from our 2020 annual celebration, featuring original art from TK.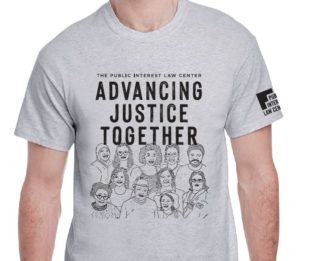 Our organization and its clients currently need your support more than ever. As the COVID-19 pandemic continues to impact our community, voters, students, renters, and other groups of Philadelphians face tremendous threats to their fundamental rights. By making a first-time donation or renewing and increasing your last Giving Tuesday gift, you can help ensure that we are able to use the law as a tool for social good in this unprecedented time. Through your support, we can continue to fight for our right to vote, the implementation of life-saving gun laws, equitable funding for Pennsylvania schools, and increased employment opportunities for those in our community with criminal records.
Our clients stand up to injustice they see in their own backyards with hope and bravery, and your support helps us fight alongside them.  One of Philadelphia's most pernicious injustices is gun violence. Nearly 85 percent of shooting victims in the city are Black, and this everyday violence is concentrated in low-income communities. Kimberly Burrell is a mother who lost her son in 2009, in a shooting committed with a gun that was obtained on Philadelphia's illegal underground market. She is now our client in a lawsuit defending the City of Philadelphia's right to enforce a common-sense law–requiring gun owners to report when firearms are lost or stolen–that will help keep illegal handguns off the streets and save lives. Check out this interview with Ms. Burrell to learn more about her story.
Meet more of our clients and learn about our high-impact legal work in this short video.