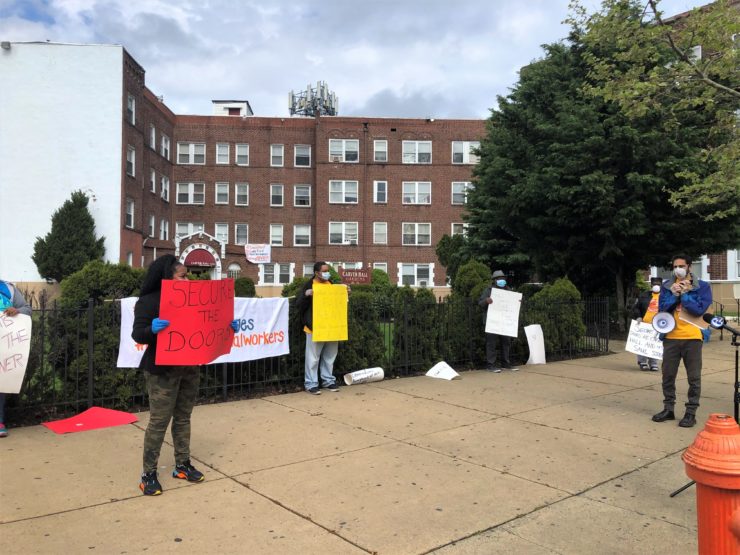 In this program, Public Interest Law Center staff attorneys and community lawyers Ebony Griffin and Mary Beth Schluckebier will provide information on the relevant laws governing both tenant rights and community gardens in Philadelphia and Pennsylvania. They will offer insights on strategies they have used to combat displacement during the pandemic, and will also share their direct experience with the opportunities and challenges of pairing organizing and lawyering which may not always present a simple pathway for traditional litigation solutions. Free registration here. This program is open to all, both attorneys and non-attorneys.
 1.5 distance hours of ethics CLE credit will be available to Pennsylvania attorneys. 
When: Wednesday, December 9, 12-1:30 PM
Where: Online webinar.
Cost: Registration for this program is free. Program attendees are asked to consider a donation to the Law Center of whatever amount they feel is appropriate. Donate here.
The COVID-19 pandemic has revealed the interdependence of every member of our community, and the importance of stability. To stay safe from the pandemic, people need a safe and stable home. Open green spaces like community gardens are crucial resources in many neighborhoods for safe recreation, food security, and more. But housing stability and green spaces are both under threat in Philadelphia, in ways that both predate the pandemic and have been exacerbated by its economic fallout. These threats fall hardest on the communities that have faced the starkest impacts of the pandemic itself: Black and Hispanic low-income and working class communities.
Through the Garden Justice Legal Initiative and Renters' United Philadelphia, the Public interest Law Center works with Philadelphians to address these threats of displacement through education, community organizing, and legal action.
This program is co-hosted by Faegre Drinker Biddle & Reath LLP (Faegre Drinker). Faegre Drinker has been certified by the New York Continuing Legal Education (CLE) Board, the Pennsylvania CLE Board, and the Illinois Minimum Continuing Legal Education (MCLE) Board as an accredited provider of CLE. Faegre Drinker is a certified provider, as recognized by the Colorado Supreme Court Continuing Legal and Judicial Education Committee, and a State Bar of California-approved MCLE provider. Faegre Drinker is an approved sponsor with the Indiana Commission for CLE and an accredited provider approved by the State Bar of Texas' MCLE Committee.