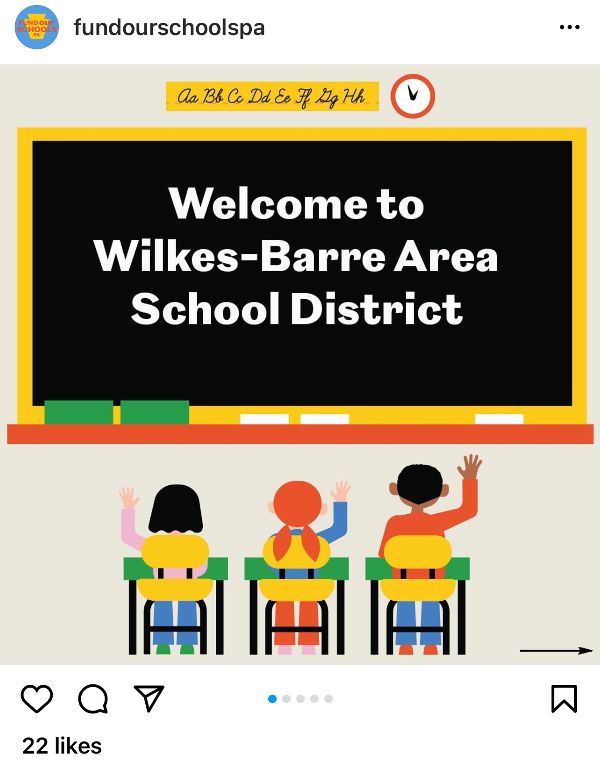 January 29, 2022–After 37 days, 29 witnesses, and more than 10,000 pages of trial transcripts, the petitioners in the school funding lawsuit are closing their case. Next week it will be legislative respondents' turn to call witnesses.
The final four witnesses called by petitioners this week included a view from a well-funded district, a youth perspective on the impact of underfunding, and testimony about the one petitioner school district we had not previously heard from, Wilkes-Barre Area School District in northeastern Pennsylvania.
Daily summaries of each day's proceedings are now available at FundOurSchoolsPA.org/news
Sign up to receive these weekly summaries in your inbox at FundOurSchoolsPA.org
Nancy Hacker, a retired career educator and former superintendent of the relatively affluent School District of Springfield Township, just outside of Philadelphia, gave example after example of how adequate funding allowed her district to respond promptly to problems – from a leaking roof to an unexpected influx of students. She said her district's levels of resources are "probably the most significant factor" in its strong academic outcomes.
Chief Financial Officer Uri Monson in the neighboring School District of Philadelphia described a very different experience. The district had been buffeted by a budget crisis when he came on board in 2016. "There were meetings that had been going on about literally which bills had to be paid now and which could be delayed," he said.
The district did find a path to financial stability, but it required austerity measures, including a period of five years when teachers worked without a contract and pay was frozen. And with insufficient revenues to cover rising mandated costs like charter schools and pensions, deficits are expected to return soon.
A youth perspective on underfunding came from Michael Horvath, a 2019 graduate from the Wilkes-Barre Area School District, who is part of the case along with his mother as individual petitioners. He recalled "not feeling too great about where you're going to school" because of the condition of the building. "It's very hard to learn something if you're not in a comfortable environment," he said.
Excelling at football, he was heavily recruited and went off to Utica College hoping to earn a degree that would allow him to support a family. But he found that his school had not prepared him for the demands of college. He is back home now, working two jobs, with college debt but no degree.
Petitioners' final witness was Superintendent Brian Costello, also from Wilkes-Barre. Like Monson, he described a district unable to balance its budget without severe cutbacks, such as eliminating all K-8 art teachers and all librarians (Horvath had recalled the closing of his school's library and how he never was taught how to go about finding a book).
Costello echoed the comments of other superintendents who have testified: "Some [students] we do a great job with, and they become leaders within the community. … But there are just too many other students that we just don't have the necessary resources to accommodate their needs." For graduates of the class of 2013, just 18% of the district's economically disadvantaged students earned a college degree within six years.
Trial is expected to resume Wednesday and continue well into February as legislative leaders put on their case defending the current school funding system. You can follow the court's livestream of the trial at FundOurSchoolsPA.org/trial.
"You see the facade outside chipping away, and the ceiling in the schools chipping away. Sitting in desks that I didn't fit in, sitting in desks that were broken, trying to read textbooks that you went from page 19 to page 27. Eating food with roaches. … Pretty much going to school with roaches." — Michael Horvath, individual petitioner and 2019 graduate, Wilkes-Barre Area School District
Our Daily Summaries and Blog Posts
News Coverage