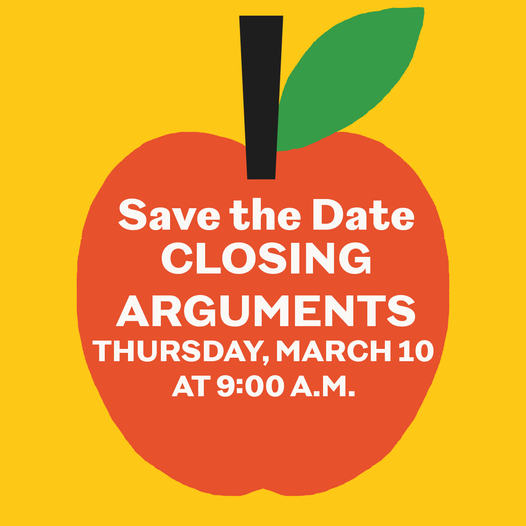 February 26, 2022 – Mark your calendars! Closing arguments are set for Thursday, March 10, starting at 9:00 a.m.—tune in live here.
Watch the culmination of 13 weeks of trial, 48 days of witness testimony, and years of steadfast efforts of school districts and families across Pennsylvania who sued state officials because they believe a better future is possible for students in our commonwealth's public schools.
Daily summaries of each day's proceedings are now available at FundOurSchoolsPA.org/news
Sign up to receive these weekly summaries in your inbox at FundOurSchoolsPA.org
This week, the final witness in this historic school funding trial took the stand as petitioners put on their rebuttal case. Dr. Matthew Kelly, a Penn State professor and an expert on school finance, was called as a witness for the second time, after testifying as an expert back in November. Kelly rebutted testimony from several expert witnesses called by legislative leaders.
As Kelly explained, respondents' experts cited data that made a fundamental error, counting revenue that goes to charter schools without counting charter school students. This significantly and erroneously inflated the per-pupil spending numbers for districts across the state, he explained – some districts more than others.
Kelly pointed out that charter schools are concentrated in the highest-need school districts in Pennsylvania, which would mean that a failure to properly account for them would "essentially invert" our state's spending patterns. "It will make high-poverty, high-need districts appear like they have more funding per pupil than they actually do," he said.
Now, with witness testimony over, the final rounds of this court battle are here. After closing arguments on March 10, both parties in the case will file a series of post-trial briefs, summarizing the "findings of fact" they believe they have proved, the "conclusions of law" they are asking the judge to reach, and their analysis of the legal questions presented—such as the meaning of the state constitution's "thorough and efficient" education clause. The final post-trial brief is due on July 6. Then—after oral argument (date to be determined) on legal issues—the court will make its final decision in the following weeks or months.
It has been a long road to get here, and while we can't say exactly when the court will make its decision, we can see the finish line ahead. As always, our legislative leaders don't have to wait: they could get to work on fulfilling their constitutional duty to every student in Pennsylvania public schools tomorrow.
Thank you for following along as we made the case for a fair school funding system in Pennsylvania. We will continue to be in touch with updates and ways that you can get involved in the movement for a school funding system in which local wealth no longer determines which students do or do not have what they need to reach their potential.
"The disparities in funding between high-wealth and low-wealth districts, that's not just numbers on paper. That's children, hundreds of thousands of them." – Petitioners' attorney Katrina Robson during opening statements, November 12, 2021.
Our Daily Summaries and Blog Posts
News Coverage
GOP leaders defend Pennsylvania's school funding as adequate and constitutional  – Chalkbeat Philadelphia, February 18, 2022
What you need to know about Pennsylvania's school funding trial  – Pittsburgh City Paper, February 23, 2022