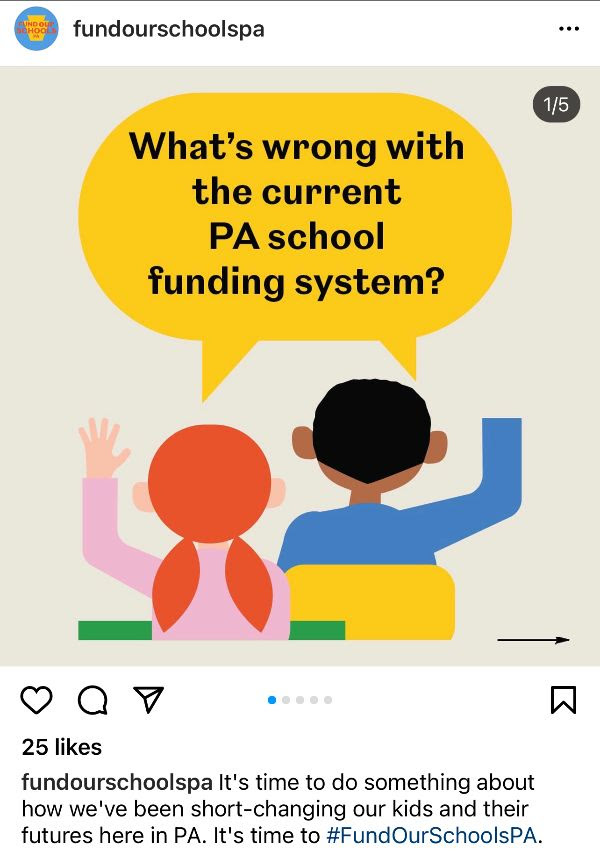 February 12, 2022–Legislative leaders continued their case defending the constitutionality of Pennsylvania's current school funding system this week, first calling Mark Ornstein, an educational administrator who most recently led the University Prep Charter School network in Detroit, as an expert witness. Ornstein had prepared a report on the use of standardized test scores and the impact of class sizes and other interventions on student learning.
Daily summaries of each day's proceedings are now available at FundOurSchoolsPA.org/news
Sign up to receive these weekly summaries in your inbox at FundOurSchoolsPA.org
However, Ornstein never testified about these topics. In response to legislative respondents' request that Ornstein be qualified as an expert in the case, counsel for petitioners questioned Ornstein regarding more than a dozen examples where his expert report appeared to have copied text from other sources verbatim without citations. These sources included an undergraduate paper written by a Penn State student. Ornstein acknowledged that many of the passages appeared to be copied without any reference to the underlying source.
After initially arguing that Ornstein should still be allowed to testify, attorneys chose to withdraw him as a witness following court's lunch recess, just as the judge was preparing to rule on a request from petitioners to exclude his testimony. Court was adjourned early that day.
Legislative leaders then called another former charter school leader to testify: Maurice Flurie, the former CEO of Commonwealth Charter Academy (CCA), Pennsylvania's largest cyber charter school. During direct examination, Flurie testified about the academic programs offered by CCA, saying that while CCA may be a good match only for some students, for those students it "absolutely" provides them with the opportunity to become college- and career-ready.
On cross examination, Flurie reviewed documentation of the schools' academic performance, which places it in the bottom 5% of schools in the state. On a two-year, combined basis, only 28.8% of CCA students achieve proficiency on English Language Arts and Math PSSA exams. CCA's four-year cohort graduation rate is 53%, compared to the statewide average of 87%; its six-year rate is 70%.
On cross-examination, Flurie also reviewed documentation showing that CCA's special education teachers have caseloads of more than 65 students each. While CCA educates a disproportionate number of students with disabilities – over 20% — the dropout rate of students with disabilities is 46% compared to a statewide average of 13%. He also fielded questions about use of taxpayer funds for the school's multimillion dollar advertising budget. Flurie admitted that he is a registered lobbyist and that the school has spent over $8 million a year on advertising.
The week concluded with testimony from Jason Willis, a researcher and program director for the firm WestEd, whom legislative respondents called as an expert witness on Pennsylvania's school funding system. In his testimony under direct examination, Willis claimed that Pennsylvania is a relatively high spending state on average, and that the state has been making progress towards more equitable school funding. His analysis also compared petitioner school districts in the case to "peer districts" he selected through statistical analysis, claiming that these districts are less efficient than similar districts in the state. These claims were challenged on cross examination.
Attorneys for petitioners questioned his choice of districts for peer comparison, such as his decision to compare the School District of Lancaster – a low-wealth, high-needs, urban district – to two small, affluent suburban districts, Radnor Township and Jenkintown.
Petitioners also pointed out that funding figures he provided for many school districts with high populations of students enrolled in charter schools were significantly higher than their spending as reported by the state department of education, in addition to other apparent data errors.
Attorneys for the petitioners walked Willis through his apparent error: counting funding that goes to charter schools as part of a district's funding, but not counting charter school students as part of a district's population, thereby overstating the per-pupil spending levels of districts. As Pennsylvania charter schools are concentrated in poor school districts, attorneys for the petitioners explained, Willis's error would significantly and systematically inflate the funding total reported for low-wealth districts.
Next week, legislative leaders will conclude their case, calling their final witnesses, including three more experts. The following week, petitioners will call rebuttal witnesses. Then — following closing arguments and post-trial court filings — the parties will wait for a decision from the court.
"Everything that I do I look through the eyes of my children, and if it's not good enough for my children, then it's not good enough for someone else's children." — Superintendent Eric Becoats of William Penn School District in his January 10th testimony.
Our Daily Summaries and Blog Posts
News Coverage