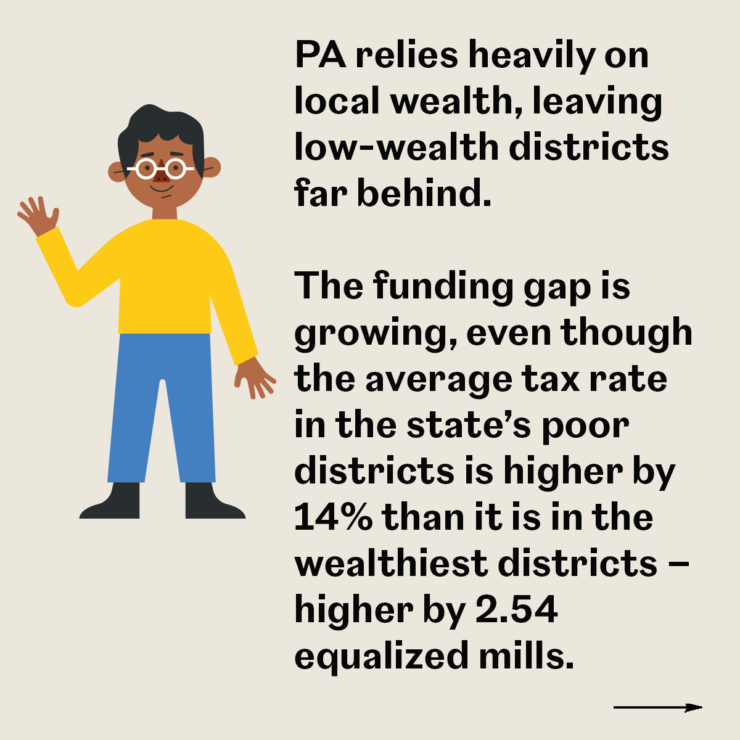 February 5, 2022 – This week, trial entered a new phase, as legislative respondents began to call witnesses to put on their case in defense of Pennsylvania's current system for funding public schools.
First up: Aaron Anderson, CEO and head of school at Logos Academy, a K-12 private Christian school with 225 students in York, Pa. The school graduates 10 to 12 students per year, and Anderson testified that the school may not admit or serve students with behavior problems, students with severe disabilities, English learners needing significant language supports, and students who are far behind academically.
Daily summaries of each day's proceedings are now available at FundOurSchoolsPA.org/news
Sign up to receive these weekly summaries in your inbox at FundOurSchoolsPA.org
"If there's a great grade disparity," Anderson said, "a student comes in testing for 9th grade and they have a 5th grade reading level – we may look at that and say that may be a student we would struggle to serve."
Two state tax credit programs that support private schools—the Educational Improvement Tax Credit and the Opportunity Scholarship Tax Credit—are important to the school's financial model. Donations via these programs account for more than half of the school's budget.
Anderson agreed that students in poverty benefit with additional support from staff like reading interventionists, therapists, and social workers. Similarly, legislative leaders' next witness, David Donley, Republican staff executive director for the Pennsylvania House of Representatives Appropriations Committee, acknowledged that the state legislature's Basic Education Funding Commission recognized that students in poverty require more resources for their education, in order to have access to the same opportunities as their peers.
Donley, who testified about the various appropriations the state makes to fund public education and public education's prominent share of the state's overall budget, also agreed that many low-wealth districts are unable to raise substantially more money for public schools locally. "I know there are capacity limits," he said.
Throughout petitioners' case, witnesses from school districts testified that they are unable to provide many types of support that they feel their students need. The superintendents of Shenandoah Valley School District and the School District of Lancaster each testified that their growing populations of English learners are served by teachers with a caseload of 29 students or more each, due to a lack of resources to hire more staff.
On Thursday and Friday, court heard from Christine Rossell, a professor emerita of political science at Boston University, who testified about English learners and their performance on standardized tests. She asserted that these measurements are unreliable for English learners, because "if the score of an English language learner goes up to a certain point, they leave that group, so the group always consists of low scorers."
On cross-examination, Rossell reviewed guidelines from the Pennsylvania Department of Education and acknowledged that Pennsylvania, when evaluating English learners on standardized tests, excludes those who have been in the United States for 12 months or less, and does not immediately exclude students who achieve English fluency. Those students' scores continue to be counted in performance reports for two full years.
The trial continues next week, with six witnesses on the schedule, including several leaders of charter and cyber charter schools.
You can follow the court's livestream of the trial at FundOurSchoolsPA.org/trial.
"School districts do not have the funds they need to be able to give their students a chance to meet state standards. Those districts that are impacted the most are often those districts that have the lowest capacity to generate funding on their own, and the greatest need." — Testimony of Professor Matthew Kelly, Nov. 18, 2021
Our Daily Summaries and Blog Posts
News Coverage