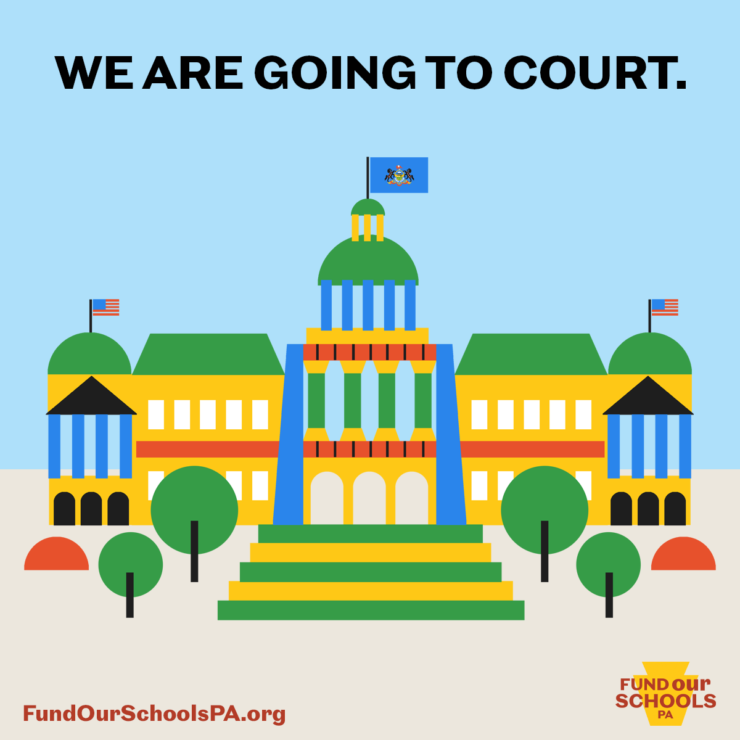 On Friday, November 12 in Harrisburg, Pennsylvania school districts and parents will begin to put on their case against our state legislature and other state officials. They will demand sufficient state funding for public schools, so that all students can receive the quality education that they deserve and that our state constitution guarantees.
You can follow along at home–the trial will be livestreamed on YouTube.
We will be posting the link to watch our school funding case at 
FundOurSchoolsPA.org/trial 
— bookmark this page for easy streaming!
On November 12, you will hear opening statements in the case, where we will preview what we'll prove during trial—that the state legislature's school funding system violates Pennsylvania's constitution—as well as the evidence and stories from across the state that will be part of our case. Witnesses will take the stand starting Monday, November 15.
Helpful information as trial approaches
Why we've taken the state to court
For too long in Pennsylvania, a district's local wealth has determined which fourth graders get the help they need in reading, which middle schoolers have safe buildings, and which eleventh graders can prepare for college. Our $4,800 per student funding gap between wealthy and poor school districts is one of the largest in the nation, and the gap is growing. Students of color are concentrated in the lowest-wealth school districts, which are the most deeply underfunded. Our leaders in Harrisburg have ignored the potential of hundreds of thousands of students in low-wealth urban, suburban and rural public schools all across the state.
For too long, our state legislature has passed the buck to local taxpayers. Parents, teachers and community members in low-wealth districts are making herculean efforts for their students, paying higher taxes than their wealthy neighbors and raising their own funds for the most basic educational tools: libraries, laptops, science experiments. But it's not enough. Our leaders in Harrisburg have created a school funding system where the students who need the most get the least, because of where they live.
It's wrong, it's unconstitutional and our leaders in Harrisburg are responsible. That's why we've taken the state to court. With your support, we can demand that our state legislature provide enough state funding so that every student can receive a quality public education, whether or not they live in a wealthy community that is able to raise the needed funds with local taxes.