The Pennsylvania School Funding Campaign is calling on the General Assembly to restore more than $900 million in education funding over the next three years, starting with approval of $270 million for the 2013-2014 school year.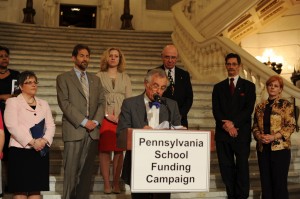 At an April 30th, 2013 press conference hosted by the School Funding Campaign, Michael Churchill, Of Counsel at the Law Center, gave remarks on the General Assembly's failure to uphold its constitutional repsonsibility to provide a "thorough and efficient system of public education." The press conference was held as school districts like Philadelphia try to budget for the upcoming school year with drastically reduced funding, forcing projections of extreme cuts to basic services and threatening to leave many students in bare bones schools.
The press conference also called attention to the disparities caused by Pennsylvania's taxpayer-funded education formula. Individuals and organizations involved in the campaign are demanding a more equitable funding equation that is not based on geography and that allows all students access to public schools that have the capacity to prepare students for successful participation in a gloablized society. Michael noted that many students have no choice but to attend inadequate and despairing schools simply because of where they live: "Can you call a system thorough and efficient when some schools have courses in Chinese, Japanese or a Russian to prepare their students, and other districts have to choose whether to have counselors or music, librarians or nurses, art teachers or behavioral support."
The Pennsylvania School Funding Campaign is a statewide coalition that advocates for adequate and equitable funding of Pennsylvania's public schools. The Law Center is a member of the campaign's steering committee. In addition to requesting the General Assembly restore and systemically increase current funding, the campaign is advocating for changes to the charter school funding formula and cost-of-living increases for special and technical education funding.
Related media: