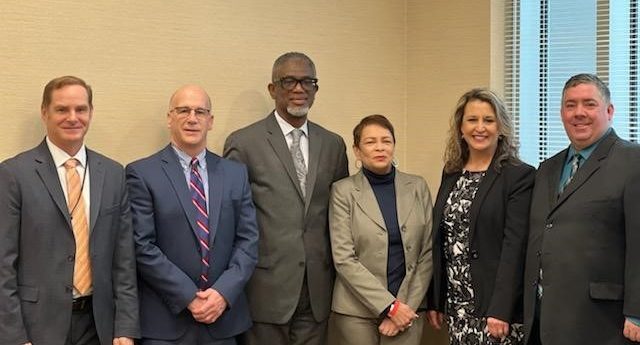 March 10, 2022–After nearly four months of testimony, Commonwealth Court heard closing arguments on Thursday, March 10, addressing the central question of this historic trial: Does Pennsylvania's current system of funding schools violate the state's constitution and deprive students in low-wealth communities of the quality public education they need and deserve?
Presenting closing arguments for the school districts, parents, and organizations who filed this lawsuit, attorney Katrina Robson emphasized the principal point:
"Let me say it again, because it's the whole case. Low-wealth districts do not have the resources that they need to prepare all children for college, career and civic success."
Robson described the Pennsylvania Constitution's education clause as "a promise to invest in every future citizen, no matter what corner of the Commonwealth they come from." But currently, Robson said, the General Assembly maintains a "two-tiered" public education system divided by local wealth, a system of "educational 'haves' and 'have-nots.'"
"One system for one people," Robson said at the conclusion of her closing argument. "It's time to keep that promise."
In her closing, she described the gap between the constitutional promise of a quality education and the current realities in the state's schools as a "catastrophic failure." Throughout trial, the court has heard from dozens of witnesses that thousands of students are suffering acute consequences from attending deteriorating, unsafe schools that lack up-to-date materials and don't have the staffing they need to address students' academic and non-academic needs.
Robson cited dozens of examples from testimony that inadequate state funding harms students, including:
Greater Johnstown has two reading specialists and no math interventions for 1,200 elementary school students, the majority of whom need individualized or small group support to catch up and read on grade level. Having the resources to actually provide the support these students need, Robson said, "is not asking for the moon or the Taj Mahal. It is asking for literacy and numeracy."

Recent Wilkes-Barre graduate Michael Horvath testified that attending a school where the water fountains didn't work, the façade was crumbling, and rodents were common, "made you feel like you were less" and "like you didn't matter."

William Penn, a majority Black district of 5,000 students just outside Philadelphia, has had to split one principal between two elementary school for years. Kindergarten teacher Nicole Miller testified about her experience working with as many as 30 kindergarteners as the only adult in the room due to budget constraints, with most students only receiving individualized instruction for 10 minutes once or twice a week.
Robson shared a quote from the testimony of Panther Valley Superintendent David McAndrew, the first witness to take the stand in the case.
"We have kids who want to learn," McAndrew said. "We have kids who are raising their hands, but we can't get to them. And there's no end in sight for this. I'm sitting here and I'm asking the state of Pennsylvania to help us. Who else is there to ask?"
Robson charged that some of legislative respondents' counter-arguments defending the current system "make a mockery of" the Constitution's education clause, which was intended to ensure that the state did not have a two-tiered school system.
"Legislative respondents have suggested that disparities in educational resources and outcomes are acceptable because the Commonwealth needs people to, using their words, flip pizza crusts or work at McDonald's," she said, pointing to respondents' comments suggesting that many Pennsylvania students have no use for algebra or biology.
School districts across the state will continue to struggle as long as the General Assembly leaves a substantial part of the funding burden—more than 44 other states—on local school districts, Robson said. In need-adjusted revenue, the poorest 20% of districts have about $7,000 less per pupil than the wealthiest. And respondents did not contest that students in the poorest districts have higher levels of need, Robson said.
The low-wealth districts that the court has heard from in this case are all different, Robson said, but all of them lack the funding to provide the resources students need.
"And that one commonality sadly and predictably has a devastating impact on children's academic outcomes," she said. Every petitioner district, plus Philadelphia, consistently scored 10 to 30 points below statewide averages on PSSA math tests, and more than two-thirds of their students were not proficient. Their graduation rates all rank in the bottom 100 of 499 Pennsylvania school districts.
"The catastrophic failures of this system are not because children look at course guides and aren't smart enough or industrious enough to seize opportunities. The failures are because they were denied those opportunities to begin with, from the very moment they had their needs triaged, as if they were walking into a field hospital instead of kindergarten."
Robson observed that the legislative leaders have attempted to prove – by reading long lists of districts' course offerings in high schools – that ample educational opportunities are there for the taking. She recalled a comment from an attorney for House Speaker Bryan Cutler that some children are "more industrious" or "better equipped to take advantage of the opportunities that are offered."
"Suggesting that this disaster is because children ignore opportunities allows us to place the blame for failure at their feet rather than the General Assembly's," Robson said, "all to constitutionally bless a system where wide swaths of students are failing to achieve and where particular groups of historically underserved students bear the brunt of it."
"Black children, Latino children, low-income children: The same natural work ethic, the same natural intelligence, the same hopes, the same dreams," she said. "The catastrophic failures of this system are not because children look at course guides and aren't smart enough or industrious enough to seize opportunities. The failures are because they were denied those opportunities to begin with, from the very moment they had their needs triaged, as if they were walking into a field hospital instead of kindergarten. It was the system's failure, not theirs."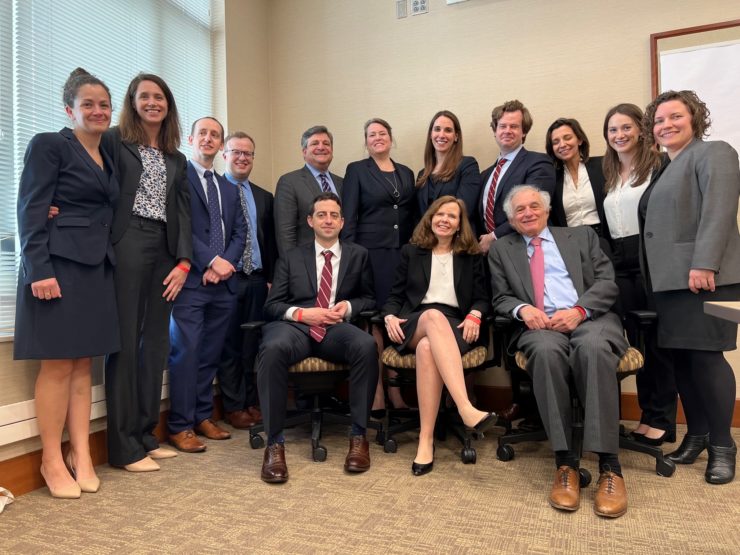 Respondents' Arguments
On Thursday afternoon, the court heard from the other parties in the lawsuit. Representing Gov. Wolf and the other executive respondents in the case, attorney Sophia Lee acknowledged that the conditions described at trial "are representative of many of the under-resourced schools throughout the commonwealth." She also referenced state data showing wide achievement gaps based on poverty and race.
Gov. Wolf and the executive respondents agree with the petitioners on another point, Lee said: "that an education system that serves the needs of the commonwealth must have more than just books, chairs to sit in, desks and tables to write on, walls, a roof, and working plumbing." Besides basic facilities and instructional materials, schools need the staff and programs to support student success, she said.
While referencing increased investments in education, Lee acknowledged, "[i]t is also unfortunately true that our schools are underfunded,"
Attorneys representing Senate President Pro Tempore Jake Corman and House Speaker Bryan Cutler reiterated their defense of the legislature's commitment to funding public education and said that the General Assembly was clearly meeting its constitutional obligations.
Representing Corman, attorney Thomas DeCesar argued that the constitution requires no more than a system offering an "adequate basic education." He also contended that the court should look at inputs rather than outcomes in evaluating whether the state's funding system meets constitutional standards.
Attorney Patrick Northen, representing Speaker Cutler, argued that the court's standard should be whether the system provides "the opportunity to attend free public school and to take courses and curricula that, if learned, will allow students to gain the basic knowledge necessary to be college- or career-ready."
With regard to evidence that many students in underfunded districts score below proficiency, Northen noted that while proficiency is what we aspire to, "basic is not nothing, especially for students from an impoverished background or with learning disabilities who are behind level before they even set foot in the public school system."
'The Constitution requires more'
In her rebuttal remarks that closed out the day and the trial, attorney Robson explained that respondents mischaracterized petitioners' case as looking at outcomes alone. She argued that the court should look at disparities in Pennsylvania's academic outcomes as well as evidence of disparities and deficiencies in educational inputs—neither of which are close to meeting the Constitution's standard.
Senator Corman, she said, wants the court to only consider inputs "because it allows him to ignore the hundreds of thousands of children not meeting state standards; the 80% of low income, Black and Latino children failing to graduate from college; the achievement gaps that are the shame of the Commonwealth."
"The standard is straightforward. Faced with the educational needs of students, you meet those needs," she said.
But Pennsylvania's funding system and the resulting deficiencies have created two classes of students. "The Constitution requires more," she concluded.
With the trial complete, the case now moves to a post-trial phase for several months, involving legal briefs. A February 22 scheduling order set a timeline for post-trial briefing, with the final brief due July 6, to be followed by oral argument over legal issues in the case. Then, weeks or months later, the court will make its decision.
Thank you following this historic case for the future of public education in Pennsylvania.