George Donnelly, Penn Law Postgraduate Fellow, funded by the Langer, Grogan & Diver Fellowship in Social Justice, testified before the PA House Democratic Policy Committee on Thursday, February 1, 2018, on retaliatory evictions. He spoke about the systemic issues that allow the worst landlords in Philadelphia to flaunt laws pertaining to rental housing.
The main example George focused on was the lack of a retaliatory eviction law in Pennsylvania – something all of Pennsylvania's neighboring states have.  Right now, a landlord in Pennsylvania can simply refuse to renew a lease if a tenant asks for repairs, contacts the appropriate housing authorities about dangerous conditions, or exercises their right to repair and deduct or withhold rent. All of the states around Pennsylvania forbid this type of behavior and allow tenants to stay in a property for six months to a year after they exercise legal rights. Such laws protect tenants and change the incentive structure. Right now tenants do not complain about repairs because they are scared they are going to get evicted. With a retaliatory eviction law, that fear would diminish substantially. Those sort of systemic fixes are necessary to protect tenants from bad landlords, and to reward good landlords.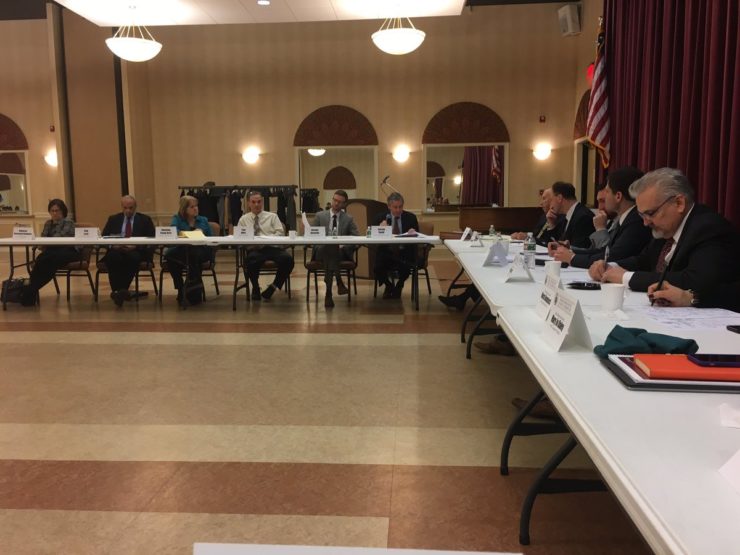 George's opening remarks:
Good morning, it's a pleasure to be here with the Democratic Policy Committee.  My name is George Donnelly and I am an attorney at the Public Interest Law Center here in Philadelphia and I represent low-income tenants in legal proceedings against their landlords.
I want to focus my remarks on the problem of retaliatory evictions.  Pennsylvania has an aging housing stock, and many rental properties have dangerous conditions that effect the health, safety, and well-being of the Commonwealth's families.  Tenants in Pennsylvania have a right to safe, decent housing, and landlords have a legal duty to make repairs that ensure habitable conditions.
But tenants often choose not to complain about squalid housing conditions or exercise legal rights available to them because they fear retaliation, and for good reason. Landlords often respond to repair requests with eviction notices, and Pennsylvania law does not prohibit most types of retaliatory evictions.
If a tenant on a month-to-month lease complains about a faulty heating system in winter, and the landlord evicts her in response, saying that the lease is over and she must leave, the tenant has no legal recourse to contest that eviction.
Similarly, if a family withholds rent because their first floor is flooded with raw sewage — which happened to my clients — they can be evicted after the landlord makes the repairs, even if those repairs come seven weeks later.
Pennsylvania's neighboring states – Ohio, New Jersey, New York, Maryland, West Virginia, and Delaware — all have statutes protecting tenants against retaliatory evictions.  As the General Assembly considers reforming the Landlord-Tenant Act, it should ensure that such reforms include protections for tenants against landlord retaliation.