For more than 40 years, the Law Center has fought on the front lines for civil rights and equality, having secured real, positive change for millions of victims of discrimination, in Philadelphia and across the country.
In 2011 alone, we had 43 active cases that stood to benefit over 2.6 million people in need. Our efforts have driven systemic change and secured important rights in the areas of disabilities rights, education, urban policing, employment discrimination, healthcare, voting rights, and more. Having filed more than twenty-five briefs with the U.S. Supreme Court and argued before the Court five times, our cases have set precedent at the highest level of the law.
Below are some of the Law Center's most important accomplishments:
[PressOK-col-reg]
Community Services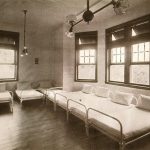 The Law Center has been a leader in the effort to move people with disabilities out of institutions where they are segregated from the general population. We have been instrumental in closing numerous institutions and moving hundreds of thousands of people into community settings with the supportive services they need to fully participate in their communities and thrive.
Halderman v. Pennhurst (1977), argued three times before the Supreme Court, resulted in a 1987 settlement closing the notorious Pennhurst State School and Hospital and placing its residents in quality, community-based settings.
We served as co-counsel in Ligas v. Miram (2011), the settlement of which helped secure community placements and services for more than 6,000 people with disabilities in Illinois.
We have also secured major reforms in Oklahoma, Connecticut, New Mexico, Tennessee, Florida, Montana and Delaware, reducing segregation and improving services for thousands of people with severe disabilities.
[/PressOK-col-reg]
[PressOK-col-reg]
Education Adequacy & Equity
Philadelphia Desegregation Case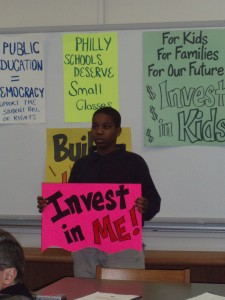 Through our intervention in the long-running Philadelphia School District desegregation case, we secured an agreement in 2009 to reallocate needed resources to low-performing schools, which have high percentages of minority students. The agreement led to:
A commitment to implement a plan to reduce racial achievement gaps and resource inequities
Full day kindergarten
Increased support services for students in low-performing schools
Funding based on factors related to a higher cost of educating students, such as proportion of low-income students and English language learners
Other reforms to improve curricula and instruction
School Funding Increase & Formula for Equity
A leader in an aggressive advocacy campaign for increased and more equitable school funding, we helped secure an increase of approximately $750 million in the Pennsylvania public school budget, as well as the adoption of a funding formula to ensure low-income and minority communities receive equitable funding.
[/PressOK-col-reg]
[PressOK-col-reg]
Employment Discrimination
Ending Discriminatory Hiring in Philadelphia Police Department
As a result of our efforts against discrimination in police hiring, the percentage of African Americans in Philadelphia's force increased from 12% to 35%, and the percentage of women increased to 25%. The city remains a national leader in the hiring of minorities and women to its police force.
We intervened in Commonwealth v. O'Neill (1973) and filed Freeman v. City of Philadelphia (1990) challenging discriminatory practices in the hiring of African Americans as police officers, winning major hiring reforms in O'Neill and ultimately in Freeman winning a decree requiring the hiring of African Americans to be at least equal to their proportion of the applicant pool.
Brace v. Philadelphia (1974), consolidated with a Justice Department case, opened the Philadelphia Police Department to female officers.
Employment Discrimination in the Steel Industry
Starting in the late 1970s, the Law Center brought a series of race discrimination cases focusing on the steel industry.
In Dickerson v. U.S. Steel (1978), we sued to stop discrimination in promotion decisions, winning judgment at trial and securing a settlement of $2.8 million in damages and attorney fees.
In Green v. U.S. Steel (1983), we sued to stop discrimination in initial hires, winning a verdict for $42.5 million.
In Goodman v. Lukens Steel Co. (1987), we challenged discrimination both by Lukens and by the unions representing its workers, ultimately arguing the case before U.S. Supreme Court and securing damages of $4.3 million.
[/PressOK-col-reg]
[PressOK-col-reg]
Environmental Justice
Shannon v. US Department of Housing and Urban Development (1970)
In our first case, we won an important victory in the U.S. Court of Appeals for the Third Circuit, compelling HUD to develop a system to address potential negative impact of its projects on minority and low-income communities.
Environmental Right-to-know Ordinance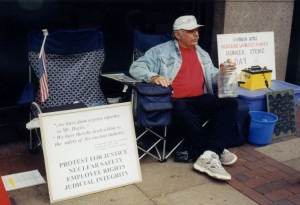 In the early 1980s, the Law Center drafted and negotiated the passage in Philadelphia of the country's first Community Right-to-Know ordinance, guaranteeing the right of employees and community residents to be informed about toxic substances in the workplace and in the community. The ordinance provided a model for 40 local and 20 state laws throughout the country.
Automobile Emissions in PA
In 1984, after the state refused to comply with a settlement establishing an automobile exhaust inspection and maintenance program, we successfully sued to enforce the agreement, convincing federal courts first to withhold highway funds to coerce compliance and then to strike down state legislation attempting to block the program.
Cleaning Up Heavy Polluters
Using community mobilization, Clean Air Act enforcement actions, and other strategies, we have successfully closed or cleaned up dozens of heavy polluters, and have prevented many others from opening. We have successfully taken action to stop pollution from many of the region's worst polluters, including:
Trash incinerators throughout the region
Sewage & toxic waste treatment plants in Philadelphia and Chester, Pa., and in Camden, N.J.
Numerous facilities in the Port Richmond/Bridesburg area of Philadelphia, including Franklin Smelting & Refining Corp &. Philadelphia Coke Works plants
Environmental Justice in Chester, Pa.
The Law Center has had a long history of working in close partnership with the Chester community to combat the extreme concentration of toxic polluting facilities in their low-income, minority city.
In Seif v. Chester Residents Concerned for Quality Living (1997), we brought the first civil rights lawsuit in the country charging a state with discriminatory permitting and won a ruling in the 3rd Circuit that private parties could sue under disparate-impact provisions of the law. The case was set to be heard before the Supreme Court but was dismissed when the facility in question withdrew its permit application.
In Chester, we instigated the first ever EPA analysis of the cumulative impact of air pollution, which found that, given Chester's poor public health and its already high level of pollution, no further permits should to be given for facilities in or around the city.
South Camden Citizens in Action v. the New Jersey Department of Environmental Protection
In 2001, we won a ruling in SCCA v. NJ DEP that the state of New Jersey had violated the civil rights of Camden residents by failing to investigate the disparate racial impact of a slag-grinding facility proposed for the 91% minority city, already home to a trash incinerator, a sewage treatment plant, and two Superfund sites. (The case was later dismissed on procedural grounds following a Supreme Court ruling in a separate matter.)
[/PressOK-col-reg]
[PressOK-col-reg]
Medicaid Access
The Law Center has developed an expertise in increasing access to healthcare by using class action litigation against state Medicaid officials for failing to ensure that low-income children have access to prompt, high-quality health care — a requirement of federal Medicaid law.
In Scott v. Snider (1995), we brought a lawsuit against Pennsylvania to increase enrollment of uninsured, low-income children in the state's medical assistance program. As a result of a settlement, enrollment in Medicaid tripled from 300,000 to 900,000.
The Westside Mothers case (2007) in Michigan preserved significant expansions of the state's Medicaid program and major increases in rates paid to doctors and dentists, and required increased monitoring of access to care Medicaid enrollees.
In OKAAP v. Fogarty (2005), we won a ruling that Oklahoma had violated the law and must increase its rates to Medicaid providers. Overturned on a technicality on appeal, this case and others like it convinced Congress to clarify and strengthen the requirement that Medicaid programs provide prompt, effective health care services.
[/PressOK-col-reg]
[PressOK-col-reg]
Police Brutality
We led a campaign to stop police brutality in Philadelphia, leading to the adoption of new regulations, stronger disciplinary policies, and increased training and oversight. As a result, civilian deaths and injuries from police officers dropped from 62 in 1977 to only 2 in 1984.
We brought a case on behalf of a man with epilepsy who was beaten in his home by police officers. The case led to the adoption of a program to train Pennsylvania police to recognize and respond appropriately to people with disabilities, the curriculum of which was subsequently adopted by the FBI.
[/PressOK-col-reg]
[PressOK-col-reg]
Special Education
Pennsylvania Association for Retarded Citizens (PARC) v. Commonwealth of Pennsylvania (1971)
PARC v. Commonwealth established the fundamental right of all children with disabilities to receive a public school education. In 1975, the Court's decree was codified in the Education for All Handicapped Children Act, now known as the Individuals with Disabilities Education Act.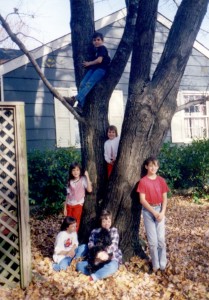 Enforcing Inclusion: Oberti & Gaskin
Building on our earlier success securing the right to an education for childrenwith disabilities, Oberti and Gaskin were important steps toward making that right a reality.
In Oberti v. Board of Education of the Borough of Clementon (1993), we won a precedent-setting ruling that schools "must consider the whole range of supplemental aids and services" and "make efforts to modify the regular education program" before segregating a student from the regular education classroom.
In Gaskin v. Pennsylvania Department of Education, a major class action on behalf of 280,000 special education students demanding greater inclusion, we reached a settlement in 2010 requiring the state to increase inclusion, improve training for teachers, and make significant reforms in the monitoring and enforcement of legal requirements for inclusion.
[/PressOK-col-reg]