An initiative of the Jeffrey Golan & Frances Vilella-Vélez Voting Justice Project.
Amid a once-a-century pandemic and a drumbeat of misinformation and threats from prominent national politicians, we have spent 2020 protecting the right to vote in Pennsylvania.
The COVID-19 public health crisis created a critical need for a robust mail-in voting system. Voting mechanisms like drop boxes have been championed as effective means of minimizing the dangers inherent in casting a ballot during the pandemic. Used by states across the country that conduct all-mail elections, drop boxes are a secure and streamlined tool for allowing voters to safely hand-deliver their ballots.
Extended return deadlines for ballots can also help afford individuals security and confidence amid the dangers and uncertainty posed by the pandemic. Amid unprecedented demand for mail-in ballots and absentee ballots, extending the receipt deadline for mail-in and absentee ballots and sent or postmarked by Election Day is a common sense change that helps ensure that our elections are safe and accessible. Voters who are vulnerable to COVID-19 and lack access to drop boxes or extended return dates for their ballots risk disenfranchisement.
In a lawsuit filed in the Pennsylvania Supreme Court in April 2020, we represented a voter and voting organizations who demanded a postmark deadline for mail-in ballots sent in for Pennsylvania's June 2nd primary election. Though the case was ultimately dismissed by the PA Supreme Court, Governor Tom Wolf implemented the relief we sought by executive order in several Pennsylvania counties facing the steepest challenges.
We also filed an amicus brief in support of the petitioners in an election suit filed by the Pennsylvania Democratic Party in state court, which sought to clarify state law on drop boxes and aimed to extend the deadline for the receipt of mail-in ballots to count ballots sent by Election Day and received by Friday, November 6. On September 17, in response to the lawsuit, the Supreme Court of Pennsylvania cleared up many of the most pressing questions about voting by mail, ruling that state law allows county bureaus of elections to set up drop boxes and satellite offices to accept mail-in and absentee ballots.
In addition to the efforts discussed above, we have also combatted attempts at voter suppression in Pennsylvania. This summer, the Trump presidential campaign filed a federal lawsuit attempting to block voters in the Commonwealth from depositing their mail-in ballots in drop boxes, on the baseless grounds that drop boxes facilitate voter fraud. In so doing, the Trump campaign attempted to force Pennsylvanians to unnecessarily decide between their health and their vote. In August, joined by the ACLU, ACLU-PA, the Lawyers' Committee for Civil Rights Under Law, and WilmerHale, we intervened in the lawsuit brought by the Trump campaign, representing NAACP Pennsylvania State Conference, Common Cause PA, the League of Women Voters of PA, and three individual voters. In October, after the Trump campaign failed to uncover any credible evidence of voter fraud—and we provided evidence on the efficacy and safety of drop boxes—District Court Judge Nicolas Ranjan of the Western District of Pennsylvania ruled against their attempt to remove drop boxes, dismissing all of their claims in a detailed opinion
We remain active in monitoring new developments in election-related litigation and law, and are prepared to do everything we can to ensure that every vote in Pennsylvania is lawfully counted.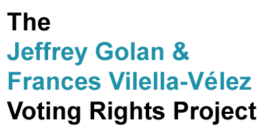 November 27 2020
The Third Circuit affirms the Middle District of Pennsylvania's dismissal of the Trump campaign's attempt to disenfranchise voters
November 21, 2020
Federal judge dismisses Trump's attempt to disenfranchise seven million Pennsylvania voters
November 5, 2020
We file an amicus brief taking on an attempt from GOP candidates to invalidate provisional ballots
October 23, 2020
The PA Supreme Court rules that mail-in ballots cannot be rejected on the basis of signature matching. We filed a statement in support of the request from the Pennsylvania Department of State, representing voting rights organizations
October 10, 2020
District Court dismisses the Trump campaign's lawsuit and its attempt to block the use of drop boxes.
September 2020
Following the PA Supreme Court ruling, we publish a guide for Pennsylvania voters planning to vote by mail on the current election rules.
September 17, 2020
The Pennsylvania Supreme Court rules that state law allows county bureaus of elections to set up drop boxes and satellite offices to accept mail and absentee ballots.
September 8, 2020
The Pennsylvania Supreme Court denies our clients' petition to intervene, but invites us to file an amicus brief. In our brief, we demonstrate that mail-in ballots are secure and that voter fraud is exceedingly rare.
August 10, 2020
Advocates and voters file to intervene in PA Democrats' state court election lawsuit
August 3, 2020
The District Court accepts our petition to intervene in Trump campaign lawsuit, representing voters and voting rights advocates
July 15, 2020
We file to intervene representing voters in U.S. District Court as defendants in a recent lawsuit brought by the Trump presidential campaign and the Republican Party. The case sought to bar the use of drop boxes and other changes that would make voting more difficult.
May 15, 2020
The PA Supreme Court dismisses our case and its request to extend Pennsylvania's mail-in ballot deadline
May 4, 2020
We file a motion for a preliminary injunction to extend the mail-in deadline for the June primary while the suit in PA Supreme Court proceeds
April 27, 2020
We file a suit in PA Supreme Court to demand that mail-in ballots sent or postmarked by Election Day and received within seven days be counted in Pennsylvania's June primary election